Press
Ottawa Citizen Touts Hell on Wheels; Indiewire Highlights Neil LaBute TV Debut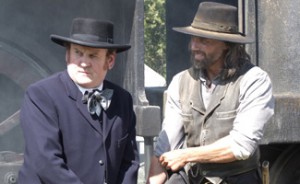 This week, The Ottawa Citizen applauds Hell on Wheels as "still firing on all cylinders," while Indiewire highlights the fact that Neil LaBute made his debut as a TV director with a Hell on Wheels episode. Plus, Anson Mount speaks about the show with The Daily Telegraph. Read on for more:
• The Ottawa Citizen calls Hell on Wheels "a cracking good yarn, still firing along on all cylinders, three years in."
• Indiewire showcases a clip from Episode 5, "Searchers," which was directed by Neil LaBute.
• Anson Mount tells Australia's The Daily Telegraph about the importance of the transcontinental railroad as the backdrop for Hell on Wheels.
• TVGrapevine learns five things about Kasha Kropinski, including the fact that she was born in South Africa.
• New Orleans Magazine interviews Lolis Eric Elie, the show's script supervisor and a writer, about the challenge of working on historical fiction like Hell on Wheels.
• The Sierra Vista (Ariz.) Herald applauds Hell on Wheels as "a really great original series."
• For recaps and reviews of Season 3, Episode 5, "Searchers," check out Basket of Kisses, Cowboys & Indians, Starpulse, TV.com and TV Fanatic.
• To stay up-to-date with all the latest Hell on Wheels news, sign up for the weekly Hell on Wheels Telegraph.
Read More