Uncategorized
Hell on Wheels Handbook – Phineas Gage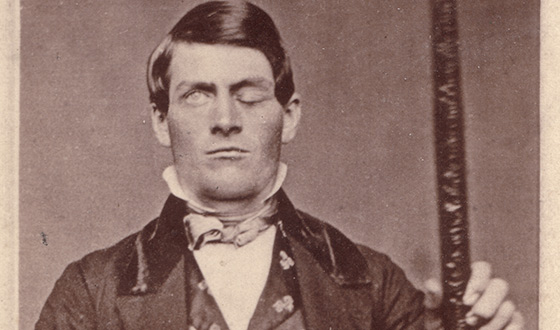 On Sep. 13, 1848, a railroad worker named Phineas Gage suffered severe brain damage when an ill-timed gunpowder explosion propelled a 3-foot 7-inch tamping iron upward through his left cheekbone and out the top of his skull. The 13½-pound rod had a pointed tip and was about 1¼ inches wide at the bottom. After piercing his skull like a bullet, the rod landed about 25 yards away. Despite the trauma, Gage survived and didn't even lose consciousness.
According to a modern scientist, Gage "skipped five ways to die." He survived because the rod clipped his brain's frontal lobe (which affects behavior and memory), but missed the areas that control body functions. Additionally, his attending physician, Dr. John Martyn Harlow, kept the wound clean and successfully treated infections, despite the era's ignorance about sterilization.
The accident left Gage blind in one eye, but he recovered physically otherwise. His personality, however, changed drastically. Before the incident, he was known as a polite, responsible, even-tempered man. Afterward he reportedly suffered wild mood swings and became easily agitated and abusively profane. His friends described him as "no longer Gage."
Harlow detailed the injury and Gage's initial symptoms in a medical journal and wrote more about the case even after Gage's death in 1860. Because Gage's personality shift seemed so clearly attributable to brain injury, the case continued to fascinate scientists. Mid-20th-century brain surgeons advocating for frontal lobotomies as behavior modification cited Gage's case to support their theory. Interest in Gage's injury was revived in 2012 when researchers used computer modeling and sophisticated imaging techniques to support a claim that the major damage the tamping iron caused was not to the frontal lobe itself but rather to the many nerve connections between it and other parts of the brain.
Gage was buried in San Francisco, but his body was exhumed a few years later at Harlow's request and the skull was transported back east so the doctor could continue his research. Harlow later donated the skull to the Warren Anatomical Museum. Perhaps befitting someone who suffered such a dramatic personality shift, Gage's body remains on the West Coast, while his skull is on exhibit on the East Coast.
Read More