Press
Common to Run All Night With Liam Neeson; Cinema Blaze Loves Cullen and Elam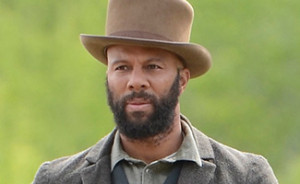 This week, Common is set for a part in Run All Night, starring Liam Neeson and Joel Kinnaman, while Cinema Blaze is enamored of Cullen and Elam's friendship. Read on for more:
• According to The Hollywood Reporter, Common is in talks to co-star with Liam Neeson and Joel Kinnaman in Run All Night.
• Cinema Blaze extols the virtues of Hell on Wheels, especially the friendship between Cullen and Elam that's "so odd, it is beautiful."
• Ynetnews reports that Anson Mount will be part of a delegation of U.S. TV stars heading to Israel later this month as as part of a PR project called "America's Voices in Israel."
• For recaps and reviews of Season 3, Episode 8, "It Happened in Boston," check out Basket of Kisses, CarterMatt.com, Starpulse and TV.com.
• To stay up-to-date with all the latest Hell on Wheels news, sign up for the weekly Hell on Wheels Telegraph.
Read More