Interviews
Q&A – Anson Mount (Cullen Bohannon)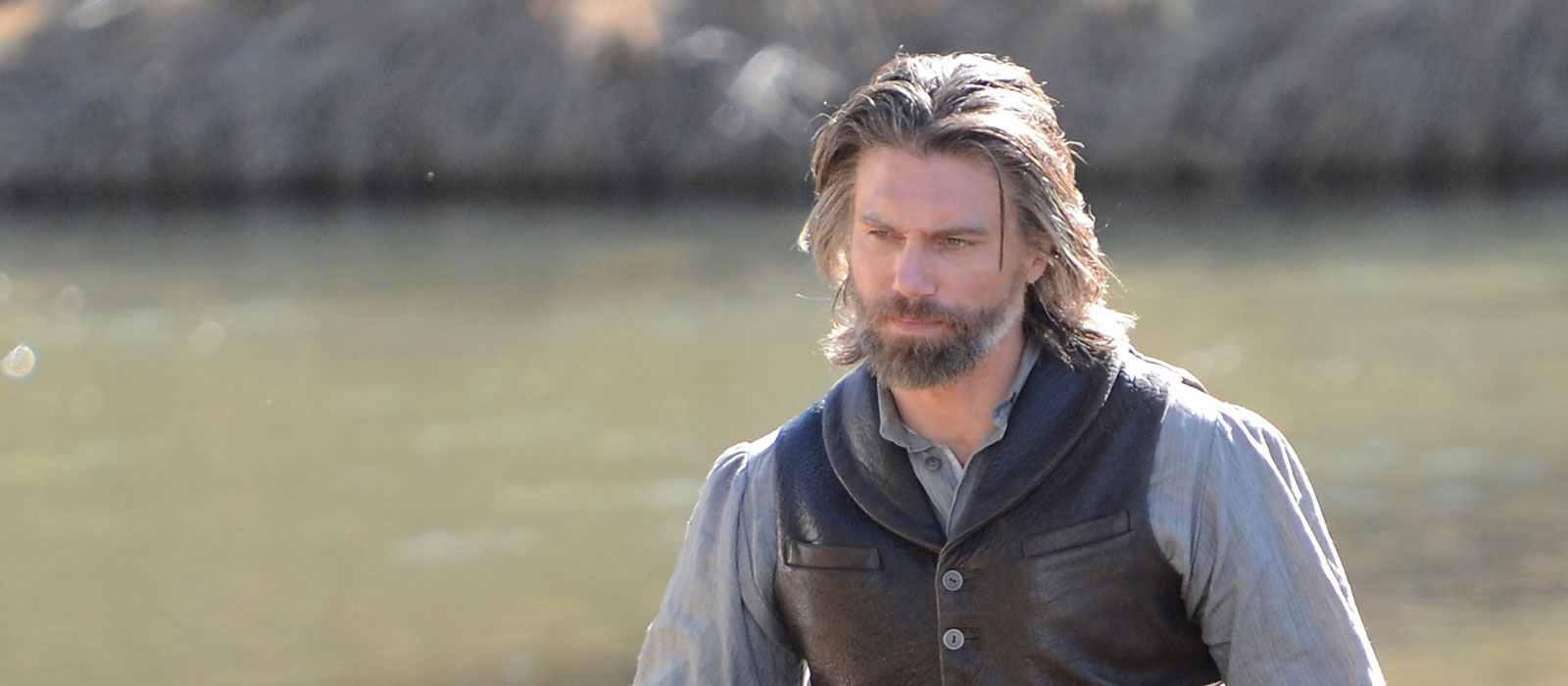 In this interview, Anson Mount (Cullen Bohannon on AMC's Hell on Wheels) talks about getting lost in his character.
Q: What is the hair and makeup process like for making you look so grizzled in the Season 3 Premiere? Did you like wearing that giant fur pelt?
A: It was very cumbersome at times. We shot a lot more than we used. At the end of trudging through ice and snow for three days, I was so exhausted. And then I got the flu… But it was good. [Laughs] It was worth it.
Q: What about the dirt and that crazy beard…
A: The dirt is just makeup. But they did have to glue that beard in. I was pulling balls of glue out of my beard for a week.
Q: You get attacked by a wolf in the Season 3 Premiere. What was it like working with that animal?
A: Actually we had three or four different wolves. One to do the wrestling, one to do the jumping, one to do the snarling, and one to do the running… The part where I'm wrestling the wolf, I'm actually wrestling a stuffed wolf and our CG house actually went in and animated the wolf.
Q: What would you say is Cullen's driving force this season? As the character evolves, do you draw inspiration from new places and people?
A: Cullen's way of coping is still the railroad, but all the truths about himself that he's put into his blind spot, the blind spot is starting to fill up to the point that things are spilling into his periphery… [He's] become more contemplative about his decisions and willing to look at the result of those decisions. To put it more bluntly, it's a season of maturation for the character.
Q: John Wirth has described Cullen as more "open" this season. Has that changed your approach to the character?
A: My level of responsibility on the show has grown to such an extent that I don't have time to do as much homework as I used to. It's been a good thing for me as an actor. It's forced me to show up and slip on the boots and just see what's going to happen… I would never tell my acting students to do this. [Laughs] I can kind of get away with it at this point because I know the character so well.

VIDEO: A Look at Season 3
Q: You live in NYC and shoot in the Canadian wilderness. Is it challenging to move between those two worlds?
A: I like being taken out of my element and immersed in a different place. It's good for my focus, my concentration, and it's good for my work. And when it comes to the Western, you cannot beat the crew that we have in Calgary. They understand this genre really really well.
Q: You often say that acting is just make-believe and play. Do you ever get lost in your character?
A: There are times when you're out there at three in the morning and the weather is horrible and the horses aren't cooperating, and it's not fun. But you have to reach down inside yourself and find what it is that's important to the scene and why you're there to begin with… Usually those moments [when I get lost in my character] are when I'm on my horse… I'm lucky that I work with some really good horses.
Q: You're active in the theater community. What was it like to work with respected playwright Neil LaBute?
A: Working with Neil is a dream come true. We're having him come back to do the last episode of the season because everybody loves him so much… Neil comes in prepared but without an agenda. He turns to the actors and says, "What's important to you? And what do you want to get out of the scene?" So immediately everybody is working from their strengths and feels like they're contributing.
Click here to read an interview with Hell on Wheels Showrunner and Executive Producer John Wirth.
Read More