Uncategorized
Louise Ellison Column – Union Pacific Cattle Rustled, Cowhand Scalped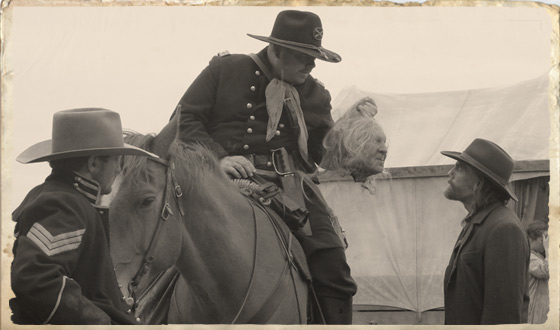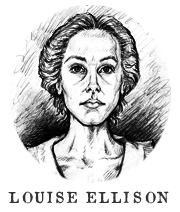 HELL ON WHEELS, NE — Wallace Beers, former Union Pacific cowhand, is alive and stable after surviving a vicious attack that claimed his scalp and the lives of five fellow railroad cowboys.
"There just came out of nowheres, had to be 20 or 30 of 'em. Fierce. Death in their eyes," said Mr. Beers, recounting the story to anyone willing to pay the five cent fee to hear the tale. "I shot at least six myself." Mr. Beers then held out five fingers, by way of explanation.
While Mr. Beers claimed the attack was perpetrated by Indians, Chief Engineer Cullen Bohannon and interim Police Chief Elam Ferguson quickly discovered it was actually a band of rustlers from Omaha, led by notorious outlaw Chet Achison. Mr. Bohannon and Mr. Ferguson tracked and dispatched the rustlers, but the cattle had already been handed off to persons unknown. The herd, a month's supply of beef for Hell on Wheels, is still missing.
Despite considerable evidence to the contrary, Mr. Beers insists Indians stole the U.P livestock. "Ain't none of you was there!" he screamed, eliciting uncomfortable glances from the half-dozen railroad workers enjoying a mid-day whiskey at the Phoenix Saloon, where Mr. Beers has been camped out for the past two days. "I kilt ten of them Injuns with my bare hands!"
Since the brutal attack, Mr. Beers has been self medicating with whiskey and laudanum. Despite the risk of corruption to his open head wound, he has refused numerous requests to see a doctor in Omaha, and insists the Indians "will pay for what they done" to his "hair." He will likely carry the scars from this attack for the rest of his life.
The misinformation surrounding the attack resulted in another tragedy, as U.S. Army Dr. Major Augustus Bendix and his cavalry troop slaughtered an Indian village as a retaliatory measure. When presented with the information that these Indians were not responsible for the cattle theft, Dr. Major Bendix shrugged off the suggestion.
"I received a very specific request from Mr. Bohannon," said Bendix, before pulling out the telegram to read. "'Pursue and kill Indians. No mercy. C. Bohannon.' I believe we can all agree I more than delivered on the Southerner's request."
Mr. Bohannon was unavailable for comment.
Wallace Beers, on the other hand, remains surprisingly upbeat about his ordeal. "Maybe I can write some kind of story book about this," he said, in between sips of whiskey. "Or join some kind of circus show, like the ones that travel 'round from place to place and make people smile." He paused, staring into his half-full glass. "I always wanted to see a lion."
As Mr. Beers plans his next steps, the railroad marches on.
Read More