Uncategorized
Louise Ellison Column – Former Indian Captive Finds New Life on Railroad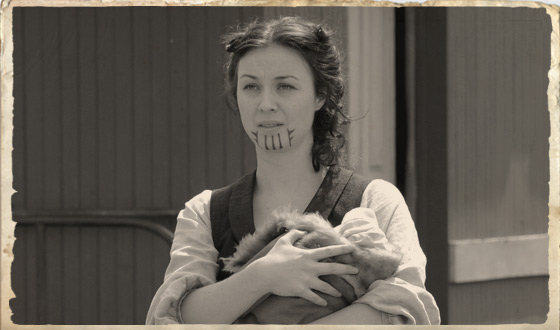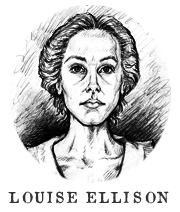 HELL ON WHEELS, NE — Amidst the dirt and debauchery of the sin-laden railroad camp known as 'Hell on Wheels,' a woman of exceptional strength and beauty has built herself a second chance.
Eva Toole, formerly Eva Oates, endured a rough childhood on the Texas frontier before her family fell victim to a vicious Comanche Indian attack in 1853. Eva was thirteen years old.
In what would prove to be a rare stroke of luck, the warlike Comanche traded young Eva to the Mojave tribe as they passed through what was then New Mexico Territory. Had she stayed with the Comanche, she would have almost certainly been killed or worse.
It was the Mojave who marked Eva's chin to claim her as one of their own. Though officially part of the tribe, Eva was not considered an equal. She was a slave to the Indians, required to cook, clean, perform field work, and provide other services for the Mojave braves.
She lived amongst the Mojave for seven years as they migrated along the Colorado river, learning their language and their customs. Her life of servitude ended after she was spotted by a soldier at Fort Yuma, who witnessed her condition and traded her away from her captors for three blankets and a mule.
Even after her trying ordeal, Eva's return to civilization did not mark the end of her hardships. A single woman with no surviving family, branded by Indians, her options were limited. She found herself in the Nebraska territory, a cut-rate railroad dove working in the mobile camp that that would soon become known as 'Hell on Wheels.'
She met and married Mr. Gregory Toole, foreman of the railroad, and fell into the good graces of then U.P. chief Thomas Durant after nursing him through a gunshot wound sustained during an attempted robbery of the railroad office.
Like so many other chapters in her life, Eva's marriage was cut short, this time by Mr. Toole's suicide. But calamity has not dimmed this remarkable woman's spirit.
In this new year, Eva is back in 'Hell on Wheels,' where she offers care and comfort to the prostitutes she once suffered alongside and to the freedman lover with whom she's set up house.
This freedman is Elam Ferguson, who has been acting as interim Chief of Railroad Police since the untimely death of ex-Pinkerton Richard Barlow at the hands of Mormon homesteaders. With few other options, Eva has been maintaining a relationship with Mr. Ferguson after her husband's suicide.
She spends her days caring for her infant daughter amidst the chaos and filth of this traveling railroad town, yearning for a better life for herself and her child.
One thing is for certain: Eva Toole is a survivor. If anyone can make a new life for herself in a vast, uncompromising wilderness, it's this marked woman of the Nebraska prairie.
Read More