Uncategorized
Hell on Wheels Handbook – Range Wars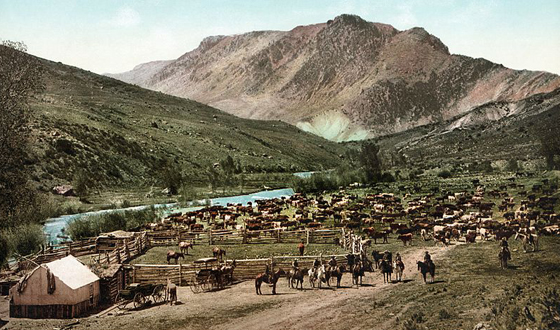 The development of the American West in the 19th century was marked by violence via Indian raids, outlaw robberies and vigilante justice. Range wars, which erupted around land conflicts, were also common as pioneers forged West into uncharted, largely unclaimed territory. These armed conflicts — typically undeclared — occurred when settlers battled for "open range" and often triggered cycles of retaliation, resulting in massive deaths. Since range wars often occurred where law enforcement was weak, police, if they got involved at all, tended to side with one faction, forcing residents to find other ways to defend their property including cattle.
While these conflicts were sometimes rooted in long-standing feuds, the point of contention was generally land ownership. One of the most notorious range wars was the Johnson County War, which took place in the late 1800s in Wyoming. Small settlers fought against their more established counterparts until the dispute culminated in a lengthy shootout between locals, hired killers, and a sheriff's posse. Eventually, the United States Cavalry was called to intervene.
Another range war of note was the Lincoln County War in New Mexico. Here John Tunstall, a wealthy English rancher, squared off against Irish-Americans J.J. Dolan and L.G. Murphy, proprietors of the only store in the county. With government beef contracts and monopoly on local supplies, Murphy and Dolan assumed a tenuous total control over the region until 1877 when the battle for power turned Lincoln County into a brutal war zone. Tunstall eventually hired gunmen for protection, including the notable William Bonney, better known as Billy the Kid. At the time, range wars such as this one were acknowledged as a way to bring order when local law enforcement could not.
Read More