Press
EW Tests Anson Mount, Common's Pop Culture Personality; Common Visits Jimmy Fallon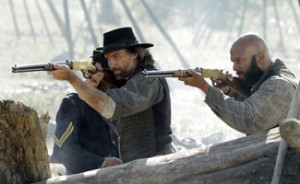 This week, Anson Mount and Common get tested on their pop culture personalities by Entertainment Weekly, while Common appears on Late Night with Jimmy Fallon. Plus, The New York Times is enamored of the Cullen and Elam relationship. Read on for more:
• Anson Mount and Common take Entertainment Weekly's Pop Culture Personality Test, where Common reveals he wishes he still had the Atari from his childhood and Mount wishes he had his Dukes of Hazzard Matchbox car.
• On Late Night with Jimmy Fallon, Common tries on Bryan Cranston's Heisenberg mask and teases that Elam is "dealing with what's it like to be a father and try to progress in life." Common also visits Live with Kelly and Michael to discuss Hell on Wheels' return.
• The New York Times calls the relationship between Cullen and Elam "more subtle and moving than your average TV bromance and brings out the best in Common and [Anson] Mount."
• Anson Mount charms the ladies of The View and talks about his affinity for Westerns since he "grew up a big fan of Sergio Leone."

• The New York Post previews the "well-written" Hell on Wheels, giving it three out of four stars.
• Canada's Postmedia News learns from Anson Mount that Cullen "wants to win. He wants to win bad. And he's addicted to the bad."
• Common tells Postmedia News about his love of Calgary, where Hell on Wheels is filmed.
• Anson Mount chats with Broadway.com about his dream theater roles — and agrees that his "bromance" with Common is the relationship that's "become the heart and soul of the show."
• Crave Online has a Season 3 clip of Cullen's encounter with a wolf.
• TV Equals spotlights some new Season 3 cast photos with an "antiquated style."
• Highlighting the Aug. 10 return of Hell on Wheels, Postmedia News calls the drama "underrated."
• Kasha Kropinski tells Celebrity Teen Scoop that shooting at Hell on Wheels' remote Calgary location is "almost like going back in time. You can imagine it is truly 1867, which is sometimes a desperate prospect!"
• To stay up-to-date with all the latest Hell on Wheels news, sign up for the weekly Hell on Wheels Telegraph.
Read More