Press
EW Follows Anson Mount's Horse on Twitter; TODAY Checks Out Elam's Office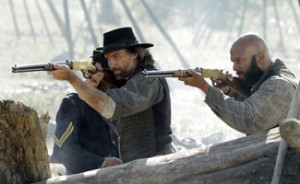 This week, the Twitter account of Quigley the horse piques the interest of Entertainment Weekly, while TODAY takes a look around Elam's new office. Plus, Anson Mount speaks with Zap2it and Scripps. Read on for more:
• Entertainment Weekly, previewing Season 3, Episode 4, "The Game," focuses on the reaction of Anson Mount's horse on the show, Quigley.
• TODAY.com has a behind-the-scenes clip of Common showing off Elam's office at the railroad police station.
• Zap2it learns from Anson Mount that "Cullen definitely suffers from what is today recognized as post-traumatic stress disorder."
• The Sydney Morning Herald interviews Anson Mount, who shares that Colm Meaney has "a great arc and he does such a great job with it."

• Common tells Zap2it that Elam and Eva's relationship is "strong" and "committed."
• Talking to the New Haven Register, Common says, "For me, playing this character actually opened me up to a bigger understanding of a lot of different cultures." [No Link]
• Anson Mount talks to Scripps about his idea for a Cullen-and-Elam Funny or Die video — and shares that he'll appear on an episode of AMC's Talking Bad.
• Crave Online has a trailer for All the Boys Love Mandy Lane, a film starring Anson Mount that will hit theaters in October, several years after it premiered at Toronto.
• For recaps and reviews of Season 3, Episode 4, "The Game," check out Basket of Kisses, Starpulse, TV.com and TV Fanatic.
• To stay up-to-date with all the latest Hell on Wheels news, sign up for the weekly Hell on Wheels Telegraph.
Read More