Press
Zap2it Goes Behind the Scenes of Season 3; Positive Reviews for Season 2 DVD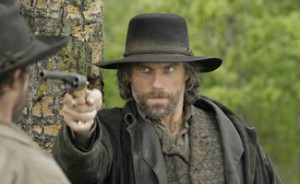 This week, Zap2it debuts a behind-the-scenes look at Season 3, while the Season 2 DVD gets some good reviews. Plus, a couple of trailers and cast portraits provide more Season 3 previews. Read on for more:
• Zap2it offers an exclusive look behind the scenes of Season 3 and predicts "it just might be the best season yet."
• Reviewing the Season 2 DVD, The Virginian-Pilot suggests, "Anyone who loves western history laced with a certain amount of fiction, outstanding acting and historical detail needs to check this out before saddling up for Season 3."
• The (Pottstown, Pa.) Mercury says, "One of the reasons the show works so well is that its stuffed with great supporting characters," including Christopher Heyerdahl's The Swede.
• CarterMatt has a Season 3 trailer that highlights the show's move to Saturday nights, while Screen Crush offers another trailer, titled "Raise Hell."
• Celebuzz features a first look at the Season 3 cast portraits, noting that "Season 3 introduces new beginnings that mirror huge roles in today's society."
• Cowboys & Indians looks into Cullen Bohannon's upcoming "assault to reclaim Saturday nights for original scripted dramas in prime time."
• Daily Billboard highlights a "giant" Season 3 billboard in Los Angeles that depicts Anson Mount looking "very much the cowboy astride his steed, pistol in hand."
• To stay up-to-date with all the latest Hell on Wheels news, sign up for the weekly Hell on Wheels Telegraph.
Read More