Press
THR on New Christopher Heyerdahl Film; Philly Inquirer Calls Hell on Wheels Cinematic TV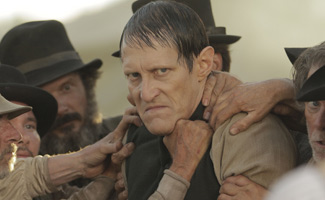 This week, The Hollywood Reporter says Christopher Heyerdahl has been cast in a new film, while The Philadelphia Inquirer takes a look at TV shows, like Hell on Wheels, that look like movies. Plus, Colm Meaney has a busy slate of upcoming films. Read on for more:
• According to The Hollywood Reporter, Christopher Heyerdahl has joined the cast of an untitled psychological drama based on photographer Eadweard Muybridge.
• The Philadelphia Inquirer cites Hell on Wheels as a TV production that has "the visual sweep and narrative breadth and depth of the best films at the multiplex."
• Female First spotlights A Belfast Story, a film starring Colm Meaney that opens later this year.
• HeyUGuys highlights the poster for Alan Partridge: Alpha Papa, a film featuring Colm Meaney that will be released next month in the U.K.
• Stars Entertainment has a trailer for Free Birds, a film opening Nov. 1, where viewers can hear Colm Meaney's voice.
• Dread Central has a still from Late Phases, a film starring Tom Noonan that is currently shooting in upstate New York.
• To stay up-to-date with all the latest Hell on Wheels news, sign up for the weekly Hell on Wheels Telegraph.
Read More