Press
Hell on Wheels Trolleys Hit San Diego for Comic-Con; Cinema Blend Touts Season 2 DVD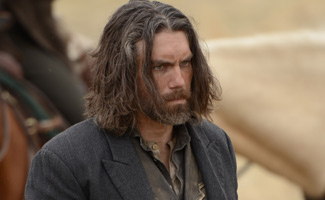 This week, Poptimal reports that special Hell on Wheels trolleys will be seen around San Diego during Comic-Con, and the Season 2 DVD is featured by Cinema Blend. Plus, News for Shoppers recommends the upcoming marathon of Seasons 1 and 2. Read on for more:
• Poptimal reports that Comic-Con attendees can ride special San Diego Trolleys made to look like Hell on Wheels 19th-century steam locomotives.
• Cinema Blend highlights the Season 2 DVD, released this week, observing that "fans are very near to seeing the show's long-awaited Season 3 premiere [on Aug. 10] on AMC."
• Big Picture Big Sound also mentions the DVD release, calling Season 2 "stellar."
• Viewers can enjoy a Seasons 1 and 2 marathon of Hell on Wheels — "one of the grittiest, dirtiest, realistic-feeling westerns ever to hit the small screen" — starting Aug. 3, according to News for Shoppers.
• News for Shoppers also reports on the Season 3 premiere date of Aug. 10 and updates readers on where the show left off in Season 2.
• To stay up-to-date with all the latest Hell on Wheels news, sign up for the weekly Hell on Wheels Telegraph.
Read More