Uncategorized
Q&A – Alyson Lockwood (Extras Casting)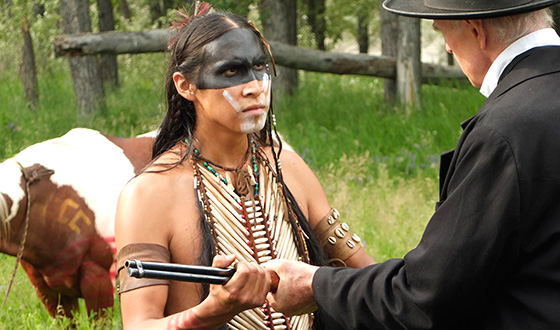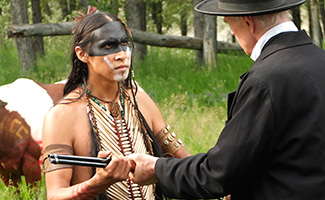 Alyson Lockwood, who casts extras for AMC's Hell on Wheels, explains the trick to casting a character who never speaks.
Q: What's the difference between casting extras and casting a principal cast member?
A: A principal actor is someone that has a line or a speaking part. The extras never speak. The extras are really the atmosphere in the background. They are all the bodies and all the people walking behind the scene.
Q: What is it about the extras that make a scene come to life?
A: I think they're a very important part of any show. I think the extras add the flavor to the scene. Specific looks are very important to a Western, right down to wardrobe. You've got to have the right look, the right size, the right facial hair, etc. and they all have to come together to make it look appropriate. In our department, we work a lot with the wardrobe department to make the extras look authentic.
Q: How do you get the word out when you're looking for extras? Do you ever have people turn up for auditions who are the opposite of what you've asked for?
A: We do a lot of Westerns in Alberta. A lot of times we need a large number of people. There are some excellent talent agencies in Calgary, but I also do open casting calls. I go into the community and I do a big open call. It gives us a good selection of people to choose from. In Calgary, we have a lot of Western faces and cowboys.
When we do the open call — on the internet or in the newspapers — we usually advertise specifically what we're looking for. The majority of people who come out will be pretty close to what we're looking for, but with the very large groups of people we see, there's always some that come that aren't appropriate. We do keep them on file for other shows down the road; if they fit the bill, then we give them a call.
Q: What's the biggest challenge of casting extras for a show set in the 1860s? 
A: You've got the wardrobe that we have to fit the people into, the hair has to be a certain length, they have to have certain facial hair, and sometimes a specific look is required. So, we have to do a lot of in-depth casting and it can be a challenge sometimes.
Q: Which is harder: Casting railway workers or Native Americans?
A: The casting is probably a little more difficult in casting some of the aboriginal people because they live in different areas of Alberta and outside of Calgary. We have to have the long hair, the traditional look, and they have to be a certain size. We have to go into the aboriginal communities and do casting calls there and make sure that, logistically, they can get to set.
The Cast on Season 2: Inside Hell on Wheels
Q: How can you tell who will make a good extra when most of them are non-speaking roles?
A: When we have them come out to our casting call, they fill information out about themselves, we talk to them and we take their photo and sizes. Then, we sit down with the director and various other departments and go through the pictures. The director will pick out the types of looks that he wants for the production. It's very much a collective effort by all kinds of departments to make it all work.
Q: What tricks have you learned over the years to perfect your casting for Hell on Wheels?
A: Always have a backup plan! [Laughs] That's a really big thing. Have a backup for a backup because you never know what's going to happen — the weather or schedules — you learn those last minute tricks, for sure… We have a good resource of faces and people that have worked on the show before. We're casting new faces all the time, so we just keep a collective group of people in our back pocket.
Q: You were in charge of extras casting on Bury My Heart at Wounded Knee (in which Eddie Spears and Wes Studi appeared). Did that help you prepare for your work on Hell on Wheels?
A: It was definitely helpful, for sure. There were a lot of aboriginal people and sometimes we had 300 or 400 people a day on that. I've done a lot of ethnic casting in the past which helps when I'm working on Hell on Wheels. I've got a lot of contacts within those communities, a lot of resources and a large database of people.
It certainly is an interesting process. We have to work a lot with different departments to make it come together. All the hard work that goes into it, and long hours, it's always very cool to see the end piece come out on the screen.
Click here to read an interview with Eddie Spears, who plays Joseph Black Moon on AMC's Hell on Wheels.
Read More