Press
Wall Street Journal Talks to Common; Colm Meaney Praises Hell on Wheels' Writing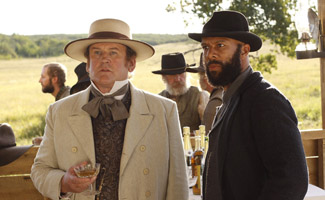 This week, Colm Meaney talks about why Hell on Wheels appealed to him, while a spontaneous rap from Common saved the day at a Hollywood event. Plus, Meaney discusses travel with the U.K.'s Independent. Read on for more Hell on Wheels news:
• Common tells The Wall Street Journal that he was so inspired by the honorees at the Essence Black Women in Hollywood luncheon, he broke into spontaneous rap when a clip reel failed to play at the event.
• Colm Meaney tells Female First that Hell on Wheels' genre and "articulate" writing, especially its dialogue, initially attracted him to the project.
• The Independent speaks with Colm Meaney about his travel experiences. One thing he's learned: "All over the world, the desires, the hopes and the issues are the same."
• The New Straits Times previews Season 2 of Hell on Wheels, which is currently airing in Malaysia.
• IAMROGUE.com presents a clip from Stand Off, a film starring Colm Meaney that opened in theaters last week.
• To stay up-to-date with all the latest Hell on Wheels news, sign up for the weekly Hell on Wheels Telegraph.
Read More