Uncategorized
Q&A – Edsel Hilchie (Locations Manager)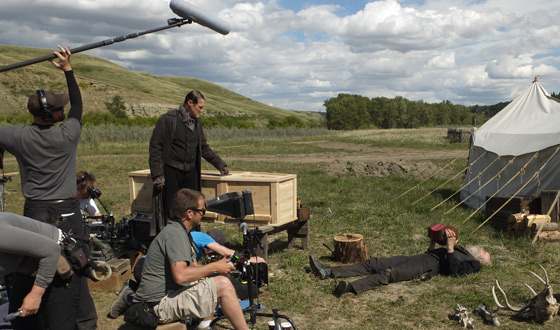 Edsel Hilchie, a Locations Manager for AMC's Hell on Wheels, reveals the lengths to which he's gone to land a good location.
Q: Hell on Wheels is set in in the 1860s, before cell towers and telephone poles were everywhere. How difficult is it to find locations that fit that setting?
A: That's one of the beauties of Alberta. You can find a lot of locations like that there. I actually just, oddly enough, was out scouting another feature film there that's set at the turn-of-the-century, and what was blowing away the executives and all the people from the studio was that they could film without having to CGI out the telephone poles and all that.
Q: What makes Alberta believable terrain for Hell on Wheels?
A: Our geography is identical to the American West. There are places where I can take you in Alberta that look like Nevada; there are places I can take you that look like Kansas; there are places I can take you that look like Wyoming.
Q: What are the most important things you look for when scouting for Hell on Wheels?
A: What it comes down to is giving them a landscape that has a variety of looks that they can work within. You shoot a lot within the town and you shoot a lot within the railway tracks, so you want as much variety of landscapes and looks as you can get. If you look this way, you've got one look for the camera, and if you look that way, you've got another look — without moving two miles down the road. Everything has to be within close walking distance.
Q: How do you work around the crazy weather?
A: In Season 1, we shot in a bowl, and whenever it rained, everything came down on us, and we had to do things like create trenches and drainage pits and river flows around the town… In Season 2, we got as much rain, but the ground drained a lot better… In Season 1, we were ending up with three or four feet of mud at times, and in Season 2 we were only dealing with three or four inches of it.
VIDEO: Anson Mount's Behind the Scenes Tour of the Season 2 Set
Q: The Hell on Wheels town got bigger last season. How did that affect your job?
A: You have to let the landowners know what's going on, because they've got to sign off on…bringing in a bulldozer in and putting down railway tracks. I'm building a town on someone's land.
Q: Is it tough convincing people to let you do that?
A: You're honest with people. You tell them what's going on. Don't lie to them and they're good… Because we were on a First Nations property in Season 1, we actually had to do a sweat lodge ceremony. Some of the producers came with me and sat in the sweat lodge and went through the whole cleansing ceremony.
Q: What exactly did the ceremony entail?
A: What you do is you strip down to your trunks — they don't make you get naked — it's like a sauna. It's a very small little area and there's food and there's prayers and there's songs…and it's completely dark, and it's amazing. I've done it a number of times because I've filmed on their property before.
Q: You were a location scout for Brokeback Mountain. Any parallels between that movie and Hell on Wheels?
A: One of my great stories about Brokeback Mountain is…there's this scene called the Black and Blue Bar where there's a fight out in front of the bar and it's snowing. That was done in the middle of July and…we took over a whole town and brought in snow and ice machines and we put foam ice all around the place and snow blankets everywhere… Anyway, there was a lady who was getting married who had booked the town hall for her reception for Saturday, and she was freaking out. And I said, "Don't worry… It'll all be cleaned up by Saturday for your wedding." And then when it all got cleaned up, she said, "Aw, I thought my white wedding dress would look really pretty against the snow!" … With Hell on Wheels, you're not dealing as much with the public because we're creating our own environment and our own little world that we're working with.
Click here to read an interview with Carol Case, the Costume Designer from AMC's Hell on Wheels.
Read More