Press
TV Overmind Previews Anson Mount Drama; TVLine Spotlights Virginia Madsen Pilot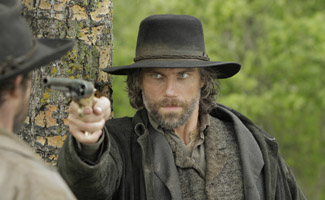 This week, TV Overmind previews Anson Mount's ABC drama, while Virginia Madsen is cast in an NBC pilot. Plus, Catherine Hardwicke books her first pilot directing project. Read on for more Hell on Wheels news:
• TV Overmind previews ABC's Red Widow, which features Anson Mount.
• NBC's Hatfields and McCoys pilot has cast Virginia Madsen, who plays Hannah Durant on Hell on Wheels, TVLine reports.
• Twilight's Catherine Hardwicke, who directed a Season 2 episode of Hell on Wheels, will soon direct the pilot episode of CBS' Reckless, according to Deadline.
• To stay up-to-date with all the latest Hell on Wheels news, sign up for the weekly Hell on Wheels Telegraph.
Read More