Press
Common Talks About Luv and Anson Mount with Entertainment Weekly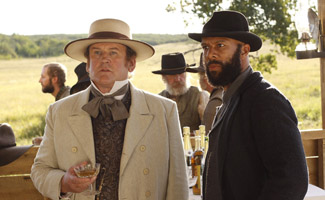 This week, Common discusses his new movie Luv as well as his Hell on Wheels co-star Anson Mount with Entertainment Weekly. Series fans can also check out the poster for Colm Meaney's new film, Stand Off. Read on for more Hell on Wheels news:
• Common speaks to Entertainment Weekly, which features a clip of his new film Luv, about working with Anson Mount: "I love him, man. We're not false around each other."
• Crave Online also interviews Common, who discusses Luv and says of Season 3 of Hell on Wheels, "I'm looking forward to some really stellar material. That's what our goal is."
• Talking to ComingSoon.net, Common describes Hell on Wheels as "a lot of fun, jiving on horses and shooting the guns and just having really good material."
• Check out Colm Meaney and his co-star Brendan Fraser in the poster for their upcoming film, Stand Off (courtesy of Movie Fanatic).
• To stay up-to-date with all the latest Hell on Wheels news, sign up for the weekly Hell on Wheels Telegraph.
Read More