Press
New York Magazine Interviews Common; Christopher Heyerdahl on The Swede's Future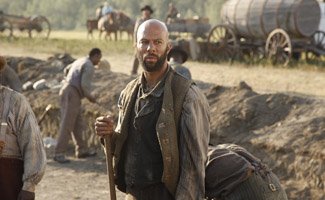 This week, Common chats with New York Magazine about his movie, TV and music careers, while Christopher Heyerdahl gets excited about the new Hell on Wheels showrunner. Read on for more Hell on Wheels news:
• Common chats with New York Magazine about his upcoming album: "It's gonna be fresh. It's gonna be original."
• Talking to Digital Spy, Christopher Heyerdahl says of The Swede, "I'd like to see the character surviving — because I want to be brought back to play again in the next season!"
• The Miami Herald interviews Common about his acting career in general and his role in Luv in particular, as does The Advocate.
• Luv's director tells CultureMap that Common's performance in the movie is "heartbreaking."
• Film Journal International's review of Luv applauds Common's "charismatic turn" in the movie, while ScreenCrush says, "Common has a commanding presence, demanding your respect and earning your sympathies."
• The Times-Picayune speaks with Lolis Eric Elie about landing a job on the Hell on Wheels writing staff.
• To stay up-to-date with all the latest Hell on Wheels news, sign up for the weekly Hell on Wheels Telegraph.
Read More