Interviews
Hell on Wheels Season 2 Interviews With the Cast – The Men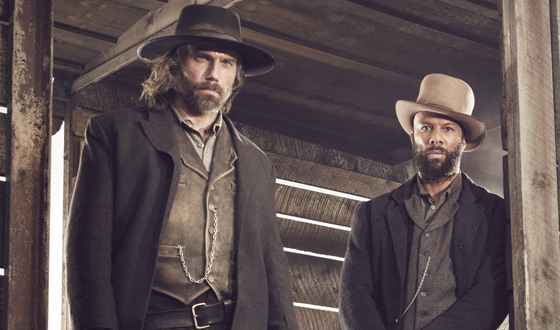 One great way to go deeper into Hell on Wheels' sophomore season is to check out AMCtv.com's exclusive interviews with the cast. This week, take a look back at Season 2 interviews with the men of Hell on Wheels. Below is a sampling of what the actors had to say about everything from fight scenes to seduction on the set. Click on the actor's name to read the full text.
– "It's funny, in terms of visibility, I take off the period costume and I put up my hair and no one recognizes me. And I'm totally cool with that." — Anson Mount (Cullen Bohannon)
– "One of the most important things that people can learn from Hell on Wheels and that time period is that people were people. Some of the same things that we go through now, they experienced." — Common (Elam Ferguson)
– "Anson almost strangled me of course, but other than that it was fine. [Laughs] He's a strong boy, you know. Once he got that chain around my neck, I thought he was for real." — Colm Meaney (Thomas Durant)
– "I decided that…The Swede's goal was to seduce Cullen Bohannon into the hot tub with him, and in a way he did." — Christopher Heyerdahl (The Swede)
– "With [Kasha Kropinski], I always find it very easy to act. It's very easy to be emotional with her." — Tom Noonan (Reverend Cole)
– "To do basically a torture sequence was awesome. The gag was a little rough, actually." — Ben Esler (Sean McGinnes)
– "I've been recognized twice, I think. People recognize Anson, and he's such an amazing actor but he gets really bashful and rosy in the cheeks." — Phil Burke (Mickey McGinnes)
– "There were fights in school when I had long hair. I got teased and
called a girl. But you get through that, and it's just ignorance I
think." — Eddie Spears (Joseph Black Moon)
– "It's always fun to play the bad guy or the character the audience will dislike. But as an actor, I have more of an affinity with the tender side of Toole." — Duncan Ollerenshaw (Toole)
– "Everyone started thinking, 'Are they really fighting?' We were grabbing each other by the collar and throwing each other around… It got real intense." — Dohn Norwood (Psalms)
Click here to read all Hell on Wheels interviews.
Read More