Press
Calgary Herald Undercover on Hell on Wheels Set; Colm Meaney Talks Durant on Wall Street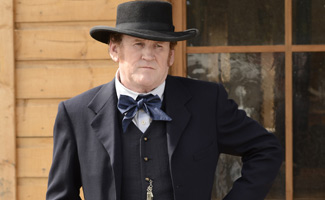 This week, the Calgary Herald gets down and dirty on the Hell on Wheels set, while Colm Meaney discusses his character's money issues on a popular Irish talk show. Plus, Executive Producer John Shiban is interviewed by Assignment X. Read on for more Hell on Wheels news:
• A Calgary Herald reporter spends a day and night as a Hell on Wheels extra, observing, "It's movie magic and it's exciting."
• Colm Meaney makes an appearance on Ireland's The Saturday Night Show (at the 4:15 mark), describing Durant as someone who would fit in on Wall Street today.
• Assignment X interviews Hell on Wheels Executive Producer John Shiban, who says Season 2 is about Cullen Bohannon "taking on the railroad as his next battle, as his next war."
• Macleans examines the new trend towards period pieces like Hell on Wheels, on TV (and cites Mad Men as one influence).
• ARTINFO.com reports that Seal Team Six: The Raid on Osama Bin Laden, featuring Anson Mount, will air on the National Geographic Channel on Nov. 4.
• Gather and TV.com recap the Hell on Wheels Season 2 finale.
Read More