Uncategorized
Hell on Wheels Handbook – Claddagh Rings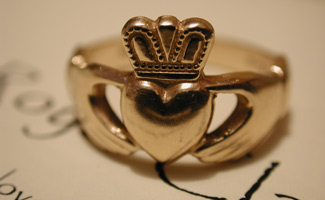 This week's Hell on Wheels Handbook takes a look at the Irish Claddagh ring Sean gives Ruth in Season 2, Episode 8.
The Claddagh ring — with its signature design of two hands clasping a heart topped by a crown — is a multipurpose piece of traditional Irish jewelry. If worn on the right hand with the
heart pointing outward, it suggests the wearer is available for
courting; if worn with the heart pointing inward, the wearer
is spoken for. If worn on the left hand with heart pointed outward, the
wearer is engaged; if pointed inward, married.
One legend about the ring's origin involves an eagle dropping a Claddagh ring into a rich Irish widow's lap as a reward for her charitable deeds. A more credible tale tells of a real-life 17th-century Irishman named Richard Joyce who was captured by pirates and enslaved by a Turkish goldsmith. Freed many years later (and by then a master jeweler), Joyce returned home to find his sweetheart waiting faithfully for him. To honor her loyalty, he created the Claddagh ring and named it after a fishing village near his home. To this day, Irish mothers pass the rings down to their daughters with the following traditional verse: "With these hands I give you my heart and I crown it with my
love."
After the Great Potato Famine in the 1840s, many Irish families moving to the United States pawned their rings to pay for passage. For others, the rings were a way to bring what little wealth they had with them. Once in America, the rings became a visible and cherished link to their homeland, and the tradition of the Claddagh has endured. To this day, both men and women wear these rings as wedding bands.
Read More