Uncategorized
Hell on Wheels Season 1 Soundtrack Now Available Online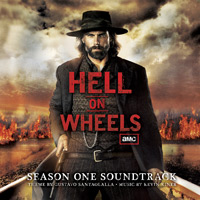 The Hell on Wheels soundtrack is now available online. The collection features an extensive list of music from the series' first season including the Emmy-nominated theme song by Gustavo Santoalalla and music by Kevin Kiner. Check out the complete list of songs below.
Track Listing:
1. Hell on Wheels Theme
2. Weak of Heart
3. Cullen the Hero
4. Survey Lily
5. Going to Church
6. Ruth and Joseph Kiss
7. Black Powder is Here
8. Searching Johnson's Tent
9. Elam Victorious
10. Drink to Feed Fire
11. Powder Go Boom
12. Raiding the Camp
13. Going Hunting
14. Railroad Gave Us Freedom
15. Don't Know the Bible
16. Explosion Aftermath
17. Building a Town
18. Cullen Escapes
19. The Sacrifice is Over
20. Grow Old and Die Together
21. It's All Over Now
22. Durant Suggests a Race
23. Townspeople Return
24. Well Done Elam
25. Ruth Goes to the Fight
26. Bridge of Bodies
27. Stay Home With Elam
28. Looking for Frank Harper
29. Pepper Juice
30. And They're Off
31. Lily Does Some Sewing
32. Men Like Us
33. Authors of Their Destruction
34. Hell on Wheels Theme (extended version)
Click here to purchase the Hell on Wheels Season 1 soundtrack on iTunes.
Click here to read an interview with Emmy-nominated Hell on Wheels theme song composer Gustavo Santaolalla.
Hell on Wheels Season 2 returns this Sun., Aug. 12 at 9/8c on AMC.
Read More