Hell on Wheels Season 1 Catch-Up Marathon Airs Sunday at 11AM | 10c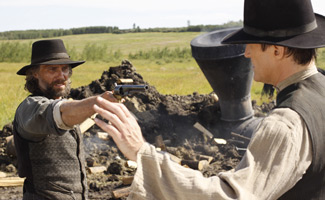 Cullen and Elam's battle with the Cheyenne Dog Soldiers; Durant's stock scheme; Lily's struggle to survive in the wilderness… Season 1 of Hell on Wheels has its fair share of drama. If you've missed an episode, fear not: This Sunday at 11AM | 10c, AMC is airing the entire first season. Better yet, this Season 1 marathon leads right into the Season 2 Premiere at 9PM | 8c.
Click here for a complete schedule of Hell on Wheels on AMC.
Read More