Press
ESPN Podcast With Anson Mount; Variety on Hell on Wheels' Emmy-Nominated Theme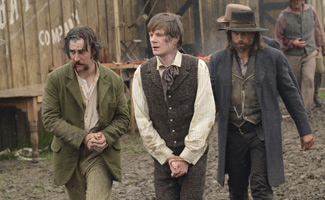 This week, Anson Mount chats with ESPN about a wide range of topics, while Variety loves the complicated music of Hell on Wheels' Emmy-nominated main title theme. Read on for more Hell on Wheels news:
• In an ESPN podcast, Anson Mount discusses his Playboy sports editor father, Robert De Niro and Britney Spears, and, of course, Hell on Wheels.
• In an article highlighting the "Emmy's tunesmiths," Variety describes the Hell on Wheels main title theme as "dark Western" punctuated by "Turkish tambur plus dobro, fiddle, percussion."
• The Salt Lake Tribune quotes Common talking about race relations on Hell on Wheels: "It's enlightening to see how far we haven't come."
• The Village Smith blog loves Hell on Wheels because, "The acting is so good you forget these are actors and are pulled head-long into the time and place."
• For recaps and reviews of Season 2, Episode 3, "Slaughterhouse," check out Cowboys & Indians, Gather and TV Fanatic.
Read More