Press
Common Visits Good Morning America; Anson Mount Joins for Good Day L.A.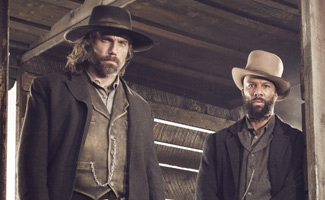 This week, Common makes the early show rounds ahead of Hell on Wheels' Season 2 premiere this Sunday, appearing on Good Morning America and Good Day L.A. with Anson Mount. Read on for more Hell on Wheels news:
• Anson Mount and Common visit the set of FOX's Good Day L.A. ahead of the Season 2 premiere.
• Common also sits down with Good Morning America, talking about leadership, relationships, and fitting in with society.
• The Hollywood Reporter offers a sneak peek video of the Hell on Wheels Season 2 premiere, courtesy of AMC.
• Check out Entertainment Tonight for a clip from the Season 2 premiere featuring Elam and Eva. Robin McLeavy, who plays Eva, talks about her character's background to Maximo TV: "It's a very conflicted experience that she's had, and it's a really great thing to play in the show."
• Colm Meaney reveals his favorite scene from Hell on Wheels to the New York Daily News.
• TV.com calls Hell on Wheels "well paced, engaging, and yes, gorgeous to look at."
• The Atlanta Journal-Constitution includes Hell on Wheels in its list of TV's best bets this week, as do the St. Louis Post-Dispatch and the Contra Costa Times.
• Check out another video from the Hell on Wheels Season 2 premiere at Indiewire, this one featuring Elam and Durant.
• Hollywood.com offers a Season 2 sneak peek of Lily, commenting, "There's nothing quite like a 19th century woman with a crisp accent and the ability to stare down any man who crosses her."
• RedEye catches up with Anson Mount, who's excited for Season 2 "because now the action is tied into character growth and character reversal."
• Canada's Postmedia News reports that the Hell on Wheels Season 2 premiere will feature "train robberies, unexpected sexual liaisons, strange allegiances and even a murder."
• Comic Book Resources puts Hell on Wheels on its list of August TV debuts it can't wait to watch.
• Canada's Postmedia News includes Hell on Wheels in its pop culture highlights for the week, welcoming Season 2 as a "respite from the frontal-lobe assault that is summer reality TV."
• Hollywood Soapbox's Season 1 DVD/Blu-ray review describes Hell on Wheels as "arguably one of the best (and most overlooked) shows on television."
• Author Heath Lowrance writes on his blog that he's a fan of Hell on Wheels, a show that "really, really delivers."
• G4's "Attack of the Show!" interviews Common (who "brings something special to everything he touches") about Hell on Wheels and shares some photos of him on the talk show's set.
• TV Overmind highlights Sunday's marathon of Hell on Wheels Season 1 episodes that will lead right into the Season 2 premiere.
• Cinema Blend notes that Season 1 of Hell on Wheels is available on Netflix — and "it's definitely worth sampling if you like the genre."
• Monsters and Critics has photos from a screening of the Season 2 premiere.
• Multichannel News highlights AMC's "Raise Hell" sweepstakes, featuring the Zac Brown Band.
Read More