Uncategorized
Hell on Wheels Handbook – New Virginia Colony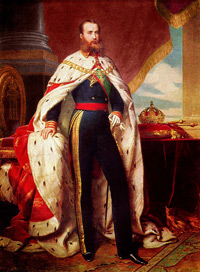 In this Hell on Wheels Handbook, AMCtv.com takes a closer look at the real history behind Cullen's dream of a Confederate colony in Mexico.
A little-known episode from the close of the American Civil War involved the doomed quest of a few thousand Confederate soldiers and civilians to establish the New Virginia Colony in the Cordoba Valley between Mexico City and Veracruz. The group included ex-Confederate General Joseph Orville "Fighting Jo" Shelby (famous for vowing never to surrender to the Union), fellow officer John B. "Prince John" Magruder and Archduke Maximilian, a Hapsburg prince named Emperor of Mexico (right) by France's Napoleon III.
Maximilian hoped to settle Mexico with Europeans to secure his rule, and Confederate Secret Service operative Matthew F. Maury convinced him that an influx of Southerners could be the key. Would-be settlers were drawn by promises of a new life.
Instead, they found a land ravaged by battle: France, Austria, the U.S., the Vatican, and Mexican freedom fighters loyal to the exiled President Benito Juarez were all fighting to advance their own interests. What's more, the settlers faced horrors like disease and rampant crime. (Back home the Northern press mocked them for fleeing the South rather than rebuilding it.)
The largest of the Mexican settlements, Carlota Colony, held only a few thousand residents at its peak. Before all of them had even arrived, Napoleon III withdrew the French army protecting the settlement so that by 1867, guerillas had destroyed colony, Juarez had returned to power, Maximilian had been executed, and Shelby, Magruder, and most of the colonists had fled back home.
Read More