Video
Now on Android, iPhone, iPad and Kindle Fire – Hell on Wheels Season 2 Premiere Episode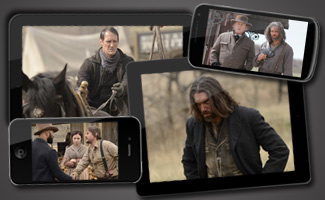 Did you miss the Hell on Wheels Season 2 premiere last Sunday night? AMC Mobile for Android, iPhone, iPad and Kindle Fire is here to help: For a limited time, you can watch the full episode on the AMC Mobile app. In addition to the first episode of Hell on Wheels, the AMC app also has breaking news on the series, sneak peeks of upcoming episodes, behind-the-scenes video, cast interviews and the latest broadcast times for all AMC shows.
(NOTE: this video is no longer available.)
You can download AMC Mobile for free on the following devices: Android smartphone, Android tablet, iPhone, iPad or Kindle Fire.
Be sure to catch new episodes of Hell on Wheels Sundays at 9/8c on AMC.
Read More