Uncategorized
Hell on Wheels Handbook – Edwin Stanton, Secretary of War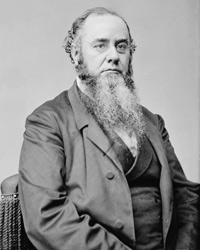 This Hell on Wheels Handbook item takes a closer look at Edwin Stanton, the Secretary of War who signed Cullen's pardon in Season 2, Episode 2.
As Attorney General under Democratic President Buchanan, Edwin McMasters Stanton was no stranger to the workings of a presidency, even witnessing the secession of the Confederate States during his term. When Abraham Lincoln was named president in 1861, Stanton was convinced the Republican's election would result in war. Still, he supported Lincoln's efforts to keep the country unified and served under Lincoln as Secretary of War during the Civil War. (Stanton claims to have accepted the position to save the country).
As Stanton became one of Lincoln's closest consultants, he often had a say in the president's day-to-day duties, including pardon requests. Although Stanton was critical of Lincoln's generous nature, the president respected Stanton's judgment and took many of his suggestions to heart. In fact, Lincoln once stated, "So great is my confidence in Stanton's judgment and patriotism that I never wish to take an important step without first consulting him."
VIDEO: Inside Hell on Wheels Episode 2, "Durant, Nebraska"
Before Lincoln's assassination in April 1865, Thomas Durant was in direct contact with the president about Union Pacific Railroad matters. After Lincoln's death, Stanton — regarded by many as the unofficial  president of the U.S. until Andrew Johnson's election — maintained a strong relationship with the railroad. In just one week, Stanton moved a staggering 20,000 soldiers more than 1,200 miles by rail to relieve the siege of Chattanooga. Stanton proved to be a relentless and influential force in managing the Union war effort, and was honored for his efforts with a commemorative 7-cent stamp in 1871 — the only stamp issued by the U.S. Post Office that year.
Save
Read More