Uncategorized
Q&A – Common (Elam Ferguson)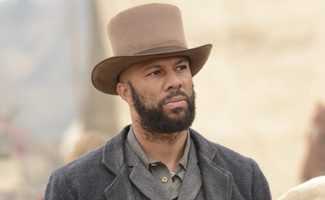 Common, who plays Elam Ferguson on AMC's Hell on Wheels, talks to AMCtv.com about embracing the "natural" lifestyle on set and how the show influences his music.
Q: Elam was shot at and almost killed by hanging last season. Were you nervous to see what the writers had in store for you in Season 2?
A: I wasn't nervous… I was really more looking forward to coming and seeing what the writers had in store for Elam next, with the hopes that Elam would stay alive for the whole season.
Q: What would you say is the biggest change in Elam?
A: He's changed his position and ranking. He's been working closely with Durant, so he's accumulated a position of power. He also has removed himself in certain ways from being amongst the freedmen a lot. Also, the back and forth between him really loving Eva and not being able to provide what she would need.
Q: Given that you're a sharp dresser in real life, were you glad to see Elam's wardrobe improve?
A: I'm glad just because it fits what Elam's going through… I want to look like how Elam is supposed to look, and obviously sometimes when people make money, they clean up. So, it's symbolic to where he's moving in his life.
Q: Is there any 1800s costume piece you can imagine wearing in your everyday life?
A: [Laughs] I was thinking about like what would somebody say if they say saw me walking around in that hat? They'd be like, "Man, are you trying to come up with a new style?" It just wouldn't work. But I can say that the hat that I wear as Elam, it's bigger than the one I had last year, and even that is symbolic of Elam rising up.
VIDEO: The Cast on Season 2 of Hell on Wheels
Q: You learned to ride a horse last season. Learn anything new Season 2?
A: There was a stunt that someone else did where this guy was on this train car above my head, and he had to fall over right in front of me. If he had fallen on me, I don't know if I'd be talking to you right now. That was kind of fun, but dangerous. And just the running and gunning on the show has been fun.
Q: Has working on Hell on Wheels influenced your music?
A: I think it influences me as a person because I'm becoming more and more educated on what we went through in American history. I can't say that I've directly written a song about something from that time period, but as an artist, you always pick up information and sometimes it seeps into your psyche or your body in its own way.
Q: How do you think Elam has changed audience's conceptions of the American West?
A: We haven't seen a character like this from that time period, and I think that was important. One thing that I've really appreciated about Elam is that he's a leader and very intelligent. He cares for people, he's passionate, and has his own dream, and thinks for himself. You know, he's a human being. And I think that's one of the most important things that people can learn from Hell on Wheels and that time period is that people were people. Some of the same things that we go through now, they experienced.
Q: You've said you prefer the "delivery of racial prejudice" in Hell on Wheels to that of America today. Why is that?
A: When you start hearing people saying words like "nigger," it kind of shakes you sometimes, but what we really need to see is that some of the same mentality still exists. People just don't use those words outright as much as they did before.
Q: The show is filmed on an especially gritty set. What's it like going back to your life as a superstar rapper after living in the Hell on Wheels world?
A: The set is definitely grimy and raw, but what I do is I just live in it and let that be. We're there for a certain project, and I'm around good actors, so me going on the set and being dirty, that's cool. I enjoy that. I don't get out there and have car service or anything. I totally live a cooler lifestyle in that it's more natural and regular and common.
Q: So you appreciate the simple life of being on set?
A: Yeah, I appreciate being able to walk on set and you're in the world of Hell on Wheels. Our set designer and everyone on that crew have done an incredible job.
Click here to read an interview with Anson Mount, who plays Cullen Bohannon on AMC's Hell on Wheels.
Read More