Uncategorized
Q&A – Gerald Auger (Pawnee Killer)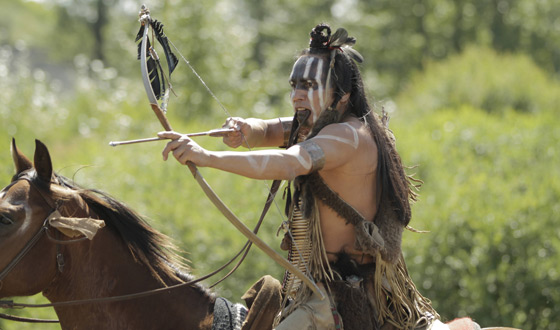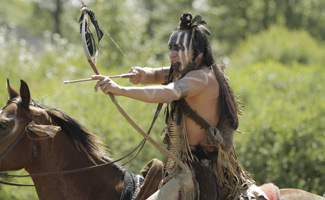 Gerald Auger, who plays Pawnee Killer on AMC's Hell on Wheels, talks to AMCtv.com in this exclusive interview about filming his own death scene and honoring the Sun Dance ritual.
Q: Pawnee Killer is based on a real historical figure. How much did you know about him?
A: Pawnee Killer was a real character in real life and I found out some interesting stuff about the man. I found out, actually, that Pawnee Killer was part of the Battle of the Little Bighorn, so he was a warrior in his own time.
Q: How comfortable were you shooting a bow and arrow for the show?
A: They put me through archery lessons and that was pretty cool. Just because I'm Native American doesn't mean I know how to shoot a bow and arrow! [Laughs]
Q: Pawnee Killer is killed by his own brother. What did you think when you read that script?
A: It kind of took me by surprise when I first read it. It was disheartening, but that happens in real life and I think that's what AMC wanted to capture — what really happened back in the day and anything that the characters were going through. It had a human component.
Q: Tell me about shooting your death scene…
A: Every actor hopes for an epic death scene in slow-motion. [Laughs] When the arrow went through me, I had to focus and think about what I would be experiencing if I looked at death right in the eye and knew I was going home to my creator. I had to look at death in itself and life; I had to look at the death of my father and people who have crossed my path in life and wonder where they went in their dying moments. It was quite the experience.
VIDEO: Who Is Pawnee Killer?
Q: You got to keep your long hair. Was Eddie Spears jealous because he had to cut his?
A: I would imagine he was! The reason I have my long hair is because there's a spiritual side to it. That's why I maintain my long hair. It's my spiritual strength and a part of who I am. I imagine Eddie was a little jealous at the end of the day. [Laughs]
Q: You're also a motivational speaker. Does that come in handy as an actor?
A: There are up-and-coming actors who come on set and sometimes, it's their first time on any set. I encourage them and motivate them and tell them that at the end of the day, they're not always going to be a new actor. If you can dream it, you can build it.
Q: You appeared in Into the West with Eddie Spears in 2005. Were you surprised to see him on the Hell on Wheels set?
A: I remembered him because he was in Dreamkeeper as well…that we did years before [Into the West]. I have respect for that young man because he's come a long way. To be where he's at in life and to get such a role as that for Hell on Wheels, he's got tremendous raw talent. We were able to reconnect in our own way as brothers.
Q: What will you draw from your Hell on Wheels experience to inform your future work?
A: I remember when we did the Sun Dance ceremony scene [in Episode 5], and I got pierced and had to go on a vision quest. The day before we started shooting the Sun Dance scene, I cut off all my food and water. I honored the ceremony for what it…represented to our people and our ancestors who walked ahead in life. For me, it was about honoring my people in my own way. That was my best experience.
Click here to read an interview with Eddie Spears, who plays Joseph Black Moon on AMC's Hell on Wheels.
Save
Read More