Uncategorized
Hell on Wheels Handbook – The Native American Experience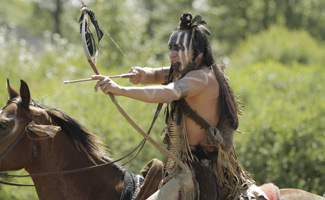 As the Transcontinental railroad roared interminably westward, bringing technology and thousands of settlers with it, the centuries-old cultures of Northern Cheyenne, Sioux, and Arapaho were severely threatened. Formerly plagued by decades of mass immigration by settlers along the Overland trails, the railroad only worsened conflict already brewing between whites and natives. This conflict would eventually erupt into all-out warfare — a war of tradition versus progress.
While laying track along the Platte Valley in 1865, workers first grew fearful of what would later become known as "the Indian menace." Tribal leaders, wary of further conflicts with whites, usually ordered their warriors to stay away from the railroad. However, young Cheyenne and Sioux braves could not always be controlled, rustling livestock, fearlessly attacking and shooting-up work crews as well as terrorizing isolated Hell on Wheels towns. Lacking army presence or significant federal protection, Union Pacific workers would in most cases have to protect themselves. Even with rifles at the ready, surveying teams were still left vulnerable, striking out ahead of work crews, and often times never coming back.
Native Americans even sabotaged the iron rails themselves. The Natives despised the rail not only for ruining the land, but for splitting the Great Plains buffalo herd into two parts — as the buffalo would not cross the tracks. Without free-ranging buffalo, the Indians' nomadic lifestyle and freedom were in jeopardy. Refusing to relinquish their independence, the Indians fought back. In August of 1867, a Cheyenne raid derailed a train by tying a stick across the rails and overturning a handcar, killing its crew of repairmen. In 1868, a group of Sioux created a more intense blockade, upturning both rails and piling wooden ties in between them, then tying the whole thing together with telegraph wire. The resulting wreck killed two crewmen, one of whom was horrifically crushed beneath the train's boiler.
Hell on Wheels Season 2 premieres Sunday, Aug. 12 at 9/8c.
Read More