Uncategorized
Hell on Wheels Handbook – Who Is the Real Thomas Durant?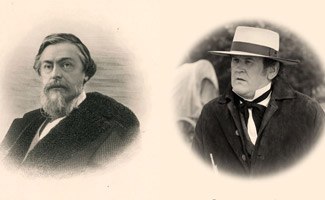 You already love Colm Meaney's critically lauded portrayal of Thomas Durant — want to know more about the complicated figure at the head of the Union Pacific Railroad? Here's a quick sketch:
Dr. Thomas Clark Durant was an American financier and railroad promoter with an insatiable appetite for business. His primary venture was serving as vice-president of the Union Pacific — controlling the company from the initial government contract awarded by President Lincoln in 1864, until his railroad met the Central Pacific at Promontory Summit in 1869.
During that time, Durant found several ways to manipulate the railroad economy in order to maximize personal profit. Durant fleeced the American Government by creating a construction company called "Credit Mobilier," effectively allowing Durant to pay himself to build the railroad with government subsidies. Durant also manipulated public investors, heading a stock swindle that made him $5 million in a single week — still called by many the "smartest operation ever done in stocks."
Check out photos of the real Thomas Durant.
Pre-order your Hell on Wheels Season 1 DVD/Blu-Ray set today.
Read More