Press
Hell on Wheels Season 1 DVD/Blu-ray Sets Now on Sale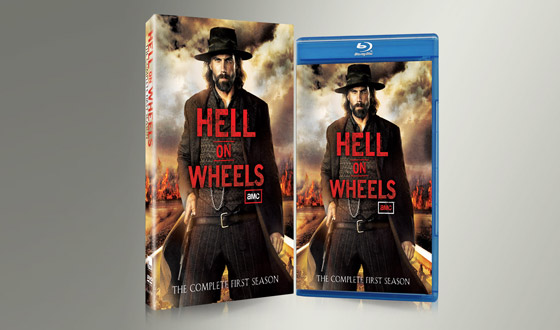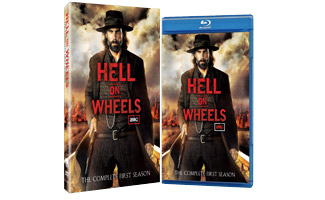 Credited for modernizing the Western genre upon its premiere in 2011, Hell on Wheels centers on former Confederate soldier Cullen Bohannon (Anson Mount), whose quest for vengeance has led him to the Union Pacific's construction of the first transcontinental railroad. Hell on Wheels currently reigns as the number two rated show on AMC (and boasts a series premiere that was the second highest rated AMC debut of all time). Before Season 2 rolls onto screens later this year, home viewers can catch up on the frontier drama with Hell on Wheels: The Complete First Season, available on DVD and Blu-ray, available today from Entertainment One.
Hell on Wheels tells the epic story of post-Civil War America, focusing on a soldier who sets out to exact revenge on the Union soldiers who have killed his wife. His journey takes him west to Hell on Wheels, the dangerous, raucous, lawless melting pot of a town that travels with and services the construction of the railroad. The lavishly-produced series documents this unprecedented engineering feat, as well as institutionalized greed and corruption, the immigrant experience and the plight of newly emancipated African-Americans during Reconstruction. Chronicling this potent turning point in our nation's history, Hell on Wheels shows just how uncivilized the business of civilization can be across ten absorbing episodes.
Developed by Endemol USA and produced by Entertainment One and Nomadic Pictures, Hell on Wheels is created, written, and executive-produced by Joe and Tony Gayton (Faster, Uncommon Valor, The Salton Sea, Bulletproof).
CAST
• Anson Mount (City by the Sea, Cook County, Conviction)
• Common (Just Wright, Date Night)
• Colm Meaney (The Conspirator, Get Him to the Greek)
• Dominique McElligott (Moon, The Philanthropist)
• Ben Esler (The Pacific)
• Tom Noonan (Damages, Manhunter)
• Phil Burke (Mercy)
• Eddie Spears (Into the West)
• Wes Studi (Bury My Heart at Wounded Knee, Heat)
BONUS PROGRAMMING
• Recreating the Past: The Making of Hell on Wheels
• Crashing a Train: From Concept to Camera
• Seven Making-of Featurettes
• Ten "Inside the Episode" Featurettes
• Seven Character Featurettes
• Behind-the-Scenes Footage
Click here to purchase Hell on Wheels: The Complete First Season on DVD or Blu-ray.
Read More