Press
NY Times Heralds Season 2 Premiere; USA Today Loves Hell on Wheels Rich Period Detail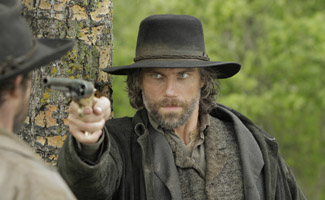 This week, the media is buzzing about Hell on Wheels' Season 2 premiere date. Also, glowing reviews for the Season 1 DVD set keep rolling in. Read on to see what critics are saying and for more Hell on Wheels news.
• The New York Times carries AMC's announcement of an Aug. 12 premiere date for the second season of Hell on Wheels. Also reporting on the Season 2 premiere are the Los Angeles Times, Washington Post, Entertainment Weekly, USA Today, MTV.com and the Huffington Post.
• In its review of Hell on Wheels: The Complete First Season on DVD, USA Today hails the series for its "lush exteriors" and rich period detail. Also praising the DVD set are the Cleveland Plain Dealer, WNCT and The Digital Bits.
• The Sun newspaper in Britain goes behind the scenes of Hell on Wheels to talk with the cast and crew — and receive firsthand lessons in stunts and sharpshooting.
• In an in-depth feature, the Scotsman visits the set of Hell on Wheels and praises the show for featuring "unusual characters who work, clash and fall in love by the side of the tracks."
Read More