Uncategorized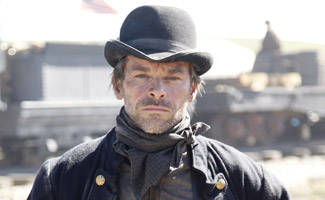 Ian Tracey, who plays The Swede's henchman Bolan on AMC's Hell on Wheels, talks to AMCtv.com in this interview about falling horse stunts and actorly advice.

Q: Bolan suffers a lot of physical abuse in Hell on Wheels. Do you do your own stunts?
A: I did some of the fighting and riding and shooting, but there's a great Calgary stunt man… I had a "horse fall" [stunt], and with those you never know if you're going to be the one getting up or not, so [he] took care of that.
Q: So everything went well with the stunts you did handle?
A: It did. Sometimes the horses were finicky because it was muddy a lot of the time and they don't like standing in a bog hole. As long as you can say the dialogue, though, that's okay. It adds a little tension to the scene with the horses moving around agitated.
Q: Did you have to learn how to ride a horse for Hell on Wheels?
A: I grew up on a small farm in British Columbia, and we all had horses of our own. I love horses, and I love being around them, so if I get a chance to work on a western, particularly a period piece like Hell on Wheels, I'm in heaven. Gettin' up early. Smelling horse dung at your feet. Riding and shooting. It's a kid's dream come true.
Q: Bolan is so vulnerable as he dies. Was that an acting choice or was that all in the script?
A: The dialogue was there, but interpretation is in the actor's hands a lot. I felt like this character is a hired gun. He doesn't have too much in the brains department — maybe he's been kicked in the head by a mule a few times — and he'll do what you tell him without much conscience. At the same time, he's innocent developmentally, maybe like the 12-year-old follower of a bully, who just does what the bully tells him to do. But faced with meeting his maker, Bolan reverts back to being a child.
VIDEO: Inside Episode 7, "Revelations"
Q: Was Bolan the role you auditioned for?
A: It was. I went in and read one scene, and it turned out that was all they had for Bolan at that point. Pretty straightforward: Hired gun playing a henchman to this Swede. Because it was a potentially recurring role, and loving horses and period pieces, I was all over it and got the part. It would have been nice not to die and to keep riding with the Swede, but somebody's got to go down.
Q: Were you sad to have the role end?
A: Well, maybe that [showing Bolan's vulnerability] was just my way of injecting a reason to not let him die and to keep the part going. [Laughs] Maybe they would take pity and let him live. But the Irish guy [Toole] lived, and they couldn't have everybody miraculously crawling back out of the woods.
Q: You started directing about a decade ago. Did it impact your acting?
A: What was difficult was acting while I was directing. Being an actor is like being a musician in that you do all your work ahead of time. While you're performing, thinking about it is the last thing you want to be doing, but if you're directing a show, you're thinking about every minute detail.
Q: You have a son who's also an actor. What advice did you give him about the business?
A: I tried to keep him out of the industry for as long as I could… I told him that if he was interested in acting, he should study it. I wanted to make sure he liked it and had an aptitude for it and didn't expect that because his old man was an actor that he'd just walk through the door and get an agent and an audition. So he started doing some plays at school and he studied with different acting coaches. Now he's showing his colors, getting some good gigs.
Click here to read an interview with Christopher Heyerdahl, who plays The Swede on AMC's Hell on Wheels.
Read More