Uncategorized
Music From Hell on Wheels Season 1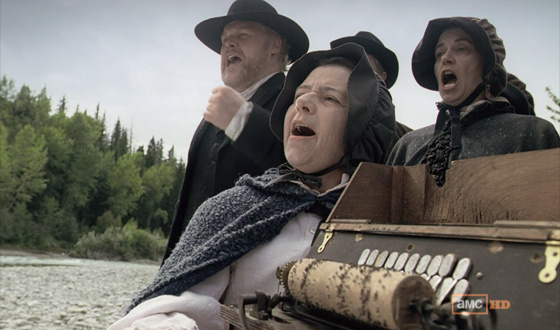 Who could forget Cullen singing "Dixie" to Reverend Cole or the haunting song that opens Episode 9, "Timshel?" There's a good reason why the music of AMC's Hell on Wheels is lauded by fans and critics alike. Below is a list of Season 1's soundtrack for those who have been asking.
Episode 1: Pilot

Dead Weathers, "So Far From Your Weapon"

Ralph Stanley, "Twelve Gates to the City"

Maura O'Connel, "Stor Mo Chroi"
"Believe Me If All These Endearing Young Charms"

"Do Not Pass Me By"

"Shuck That Corn"
Episode 2: Immoral Mathematics

No music info available
Episode 3: A New Birth of Freedom

Kasey Chambers, "Rattling Bones"
"Jug of Punch"
Episode 4: Jamais Je Ne T'oublierai

Gillian Welch, "Scarlet Town"

The Straight Shot, "Can't Make Tears"
"Dixie"
Episode 5: Bread and Circusess

No music info available
Episode 6: Pride, Pomp and Circumstance
Deer Tick, "Death to Everyone"
Lucy Wainright Roche, "All Those Endering Young Charms"
Episode 7: Revelations

No music info available
Episode 8: Derailed

Gillian Welch, "Annabelle"
Episode 9: Timshel

Mumford and Sons, "Timshel"

Seth Lakeman, "Race to be King"
Episode 10: God of Chaos

Kevin Kiner, "Untitled"
Jane and Anthony, "This Train is Bound for Glory"
Click here to read an interview with Hell on Wheels music supervisor Linda Cohen.
Read More