Uncategorized
Q&A – Wendy Partridge (Costume Designer)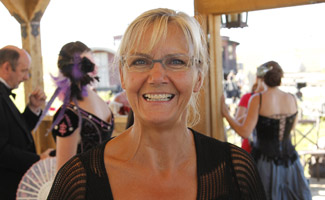 Costume Designer Wendy Partridge created Kate Beckinsale's Underworld cape and Selma Blair's Hellboy catsuit. Now she explores a different world as the woman behind the clothes of AMC's Hell on Wheels. AMCtv.com spoke with Partridge about mud, blood and Season 1.
Q: Were you born sewing?
A: No, but I've loved clothes every since I was a little girl. I started doing costumes for a little amateur theater during high school, and through that, I got a job doing a children's drama with the BBC in Edmonton. And I just went, "Wow, how cool is this?!" I'd been sewing and doing design for a number of years, but that opportunity made it seem like designing for film and television was a really cool way to make a living.
Q: The costumes in Hell on Wheels have so much grime. How do you do that?
A: We start at the very beginning, taking hundreds of items of clothing and weighing them down with rocks, and tying them up so all the knees and elbows get stretched out and wrinkled like people have slept in them. We wet them up and dry them that way, and then we make them dirty — they're clean in reality, but we cover them in fairly permanent "fake dirt." That process takes a really long time, and it's a constant upkeep because we have to wash the clothes for the actors, and then start all over again.
Q: The actors are frequently bloody. Does that require them to have multiple versions of each costume?
A: Most actors have anywhere from two to six multiples on everything, depending on how much trouble the characters get into! And blood is usually what makes us need the multiples — we've gotten very good at making people bleed! We have lots of different ways to make things look bloody, whether it's new blood or old blood.
Q: How about the underwear — do you make it all by hand, the way Janie Bryant does in Mad Men?
A: Pretty much all the underpinnings have been built by us — the corsets and petticoats and bloomers and undershirts for the men. We make all of that, right down to their underpants.
VIDEO: Behind the scenes of Hell on Wheels Costumes
Q: Is there any Hell on Wheels costume piece that you can buy in a store?
A: You can buy older looking shoes or boots, but in Calgary we have a Western bootmaker, so we have everything custom made, and we have a fabulous hat maker here, which is great for us. You can buy Henleys [a British clothing brand] ready-made, although that's probably the only thing we use off-the-shelf and, again, that's more by luck.
Q: The detail of the Native American costumes is amazing. Where did you start with those?
A: I have a huge personal library of research books, and I've done many Westerns over the years. I start there, and I either go to the library or get on the internet, but it's mostly books. Some museum archives, too, because they have lots of period photos, which are invaluable. Doing authentic native costuming has always been a passion of mine. So in my warehouse I already have an incredible amount of stock that's been made for other productions. But when I do Native American costuming, it's all done with real skins treated by Native American stores. I don't buy any commercial leather, it's all hand-tanned leather and beads imported from the Philippines, because they still use natural products like coral and water buffalo. The beads are irregular so they give you this authentic quality. I take great care and great passion in making that as right as I possibly can, given what we have available to us in modern times.
Q: Tell us about the dance scene…
A: It was one of the more fun things to do! To have satin and lace on the women's costumes, and we even got to clean up the guys a little bit! So it was nice to bring a different element where these characters do the best they could — but that's not much! Many of our extras had been in the same clothes all season, so even to get a few new pieces for them… They were so excited.
Q: What's the hardest thing about costuming Hell on Wheels?
A: The mud. The mud was so horrendous at the beginning of the show, it made every resource we had disappear, and my entire crew was exhausted before we ever started the show. The amount and the depth of the mud was two feet thick. I was afraid someone was going to get lost in it!
Click here to read an interview with Hell on Wheels series creators Tony and Joe Gayton.
Read More