Press
Hell on Wheels Lands MSPE Golden Reel Award Nomination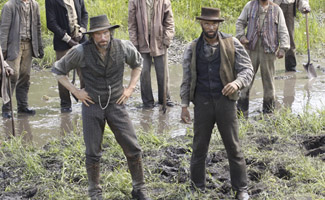 The Motion Picture Sound Editors (MPSE) have announced their nominees for the 59th Annual Golden Reel Awards, and Hell on Wheels has been honored with a nod in the category of Best Sound Editing: Short Form Dialogue and ADR in Television for Season 1 Episode 5, "Bread and Circuses."
The full team nominated in the category is as follows:
• Supervising Sound Editor: John Kincade
• Dialogue Editor: Todd Niesen, M.P.S.E.
• ADR Editor: Shannon Beaumont
• ADR Mixers: Andre Morgado, Thomas Kilzer
• Loop Group Supervisor: Kate Carlin
• Dialogue Re-recording Mixer: David Raines, M.P.S.E.
• Production Sound Mixers: Michael Playfair, CAS, Robert "Arjay" Joly
Competing with Hell on Wheels are Showtime's The Big C, HBO's Game of Thrones, TNT's Leverage, CBS' Person of Interest, WB's Smallville, FX's Sons of Anarchy, and AMC's own The Walking Dead.
The nomination was one of five total Golden Reel nominations for AMC, with The Walking Dead receiving three nods and Breaking Bad also receiving a nod.
The MPSE is a non-profit organization whose mission includes mentoring and educating the community about the artistic merit and technical advancements in sound and music editing, as well as providing scholarships and mentorship for the continuing advancement of motion picture sound in education.
The awards will take place on Sun., Feb. 19 at the Westin Bonaventure Hotel & Suites in Los Angeles.
Save
Read More