Uncategorized
What You're Saying About Lily's Future With Cullen and Durant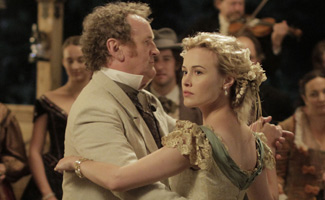 Every week during the season, AMCtv.com checks out the Hell on Wheels Talk forum and the Hell on Wheels Facebook page to see what viewers are saying about the series. This week, Lily danced with Durant while her eyes searched for Cullen. What do fans of the show think about this potential love triangle? Read on to find out.
• "you could almost hear her heart pounding- but she was trapped in Durant's clutches." — LilyBell2012
• "After what Bohannon told her about himself in her tent, Lilly's heart is definitely with Bohannon." — yangnalady
• "Wonder if Lilly will ever choose between Bohannon or Durant." — Anthony Fowler
Log onto the Hell on Wheels Talk forum to join in on the conversation, or to start a topic of your own.
Save
Read More