Press
AMC Renews Hell on Wheels for Season Two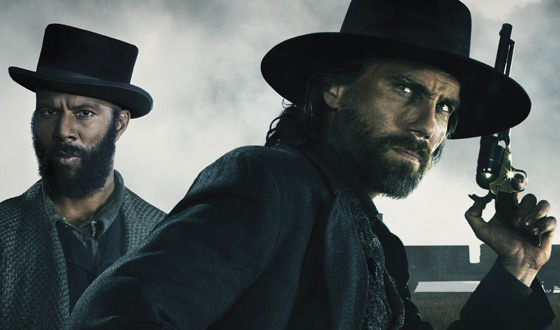 AMC has announced the renewal of Hell on Wheels for a second season. The original series reigns as the second highest rated series on AMC, averaging 3.2 million viewers and 1.5 million Adults 25-54.* Season one's finale is Sun., Jan. 15 at 10pm EST. Hell on Wheels is created and written by Joe and Tony Gayton (Faster, Uncommon Valor, Salton Sea, Bulletproof), who also serve as executive producers. John Shiban (The X-Files, Breaking Bad), Jeremy Gold, Endemol's SVP of scripted programming and David Von Ancken, who also directed the pilot, serve as executive producers. The series is executive produced by Endemol USA with Entertainment One (eOne) serving as the studio. eOne's Television CEO John Morayniss and SVP creative affairs Michael Rosenberg oversee production in partnership with co-producers Mike Frislev and Chad Oakes at Nomadic Pictures.
Hell on Wheels tells the epic story of post-Civil War America, focusing on a Confederate soldier (Anson Mount) who sets out to exact revenge on the Union soldiers who have killed his wife. His journey takes him west to Hell on Wheels, a dangerous, raucous, lawless melting pot of a town that travels with and services the construction of the first transcontinental railroad, an engineering feat unprecedented for its time. It examines the railroad's institutionalized greed and corruption, the immigrant experience, and the plight of the newly emancipated African-Americans during reconstruction. Over time, Hell on Wheels chronicles this potent turning point in our nation's history, and how uncivilized the business of civilization can be.
Hell on Wheels stars Anson Mount (City by the Sea, Cook County) as Cullen Bohannon, a former soldier hell bent on avenging his wife's death; Colm Meaney (Get Him to the Greek) as Thomas "Doc" Durant, a greedy entrepreneur taking full advantage of the changing times; musician/actor Common (Just Wright, Date Night) as Elam Ferguson, an emancipated slave working to achieve true freedom in a world entrenched in prejudice; Dominique McElligott (The Philanthropist) as Lily Bell, a newly widowed woman trying to survive in a man's world; Tom Noonan (Heat) as Reverend Cole; Ben Esler (The Pacific) as Sean McGinnes and Philip Burke (Law & Order, Mercy) as Mickey McGinnes, two young brothers looking to find their fortune in the new West; and Eddie Spears (Into the West) as Joseph Black Moon, a Native American man torn between his culture and the changing world around him.
Shot on location in Alberta, Canada, the series is produced with assistance of the Government of Alberta, Alberta Film Development Program.
AMC's Joel Stillerman, SVP of original programming, production and digital content, Susie Fitzgerald, AMC's SVP of scripted programming and Jason Fisher, SVP of production oversee development and production for Hell on Wheels.
*Source: The Nielsen Company (L+SD), HOW Sun 10pm (11/6/11 – 12/18/11). P2+ and A25-54 rtg, (000)
Read More