Press
EW Hails Hell on Wheels Renewal; Los Angeles Times Profiles Common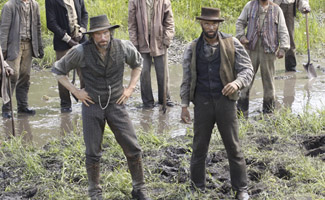 Major media outlets are abuzz over this week's renewal of Hell on Wheels for a second season. Meanwhile, the Los Angeles Times says "Common has got it all going on." Keep reading for more Hell on Wheels news.
• EW.com reports on the Season 2 renewal of Hell on Wheels, pronouncing that "the fresh western is working." Also carrying news of the renewal are Deadline, USA Today, NYTimes.com, TVGuide.com, Indiewire, The Wrap, Zap2It, UPI and Broadcasting & Cable.
• The Los Angeles Times profiles Common, touching on his acting, his hip-hop music and the wave of media attention he's received recently.
• In an interview with the Calgary Herald, Christopher Heyerdahl reveals how he came up with The Swede's accent.
• The Calgary Herald also spoke with Hell on Wheels producers about what fans can expect from a second season: "Don't be shocked if we do a little bit of stunt casting."
• The Wrap includes Hell on Wheels in an article called "The TV Year in Numbers" for its "number of scalpings shown in primetime."
• The Montreal Gazette names Hell on Wheels one of its ten best TV shows of 2011: "This was familiar storytelling writ large, on an outdoor canvas of big skies and flat prairies."
• Ireland's Evening Herald calls Irish native Dominique McElligott a star to watch in 2012.
Read More