Press
Common Guests on Chelsea Lately; NPR Calls Hell on Wheels a Reflection of Our Times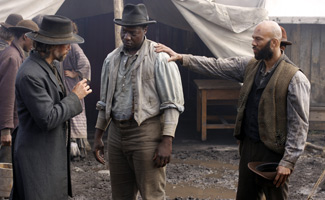 This week, Common makes a late-night appearance on Chelsea Lately to talk about his TV and music careers, while NPR references Cullen Bohannon as a "warped" character who still elicits audience sympathy. Scroll down to see what else the media has been saying about Hell on Wheels.
• Common stops by Chelsea Lately to talk about playing Elam Ferguson, writing new lyrics and Tweeting Justin Bieber.
• NPR spotlights Cullen Bohannon in a story about the popularity of anti-heroes in today's TV scene, saying, "In a world filled with war, recession and cynicism, straight-up heroes feel fake as a three-dollar bill."
• The Futon Critic, TV By the Numbers and JS Online draw attention to the music video for Common's new song, "Celebrate," which will premiere Sunday night on AMCtv.com following Hell on Wheels Episode 7.
• NY Magazine and Zap2It recap Episode 6, "Pride, Pomp and Circumstance." NY Magazine gives Colm Meaney some love, appreciating how he's "brilliant at turning thoughts like "Whaaaaat?" "Oh, come on!" and "Yooouuu bitch" into facial expressions."
• The Chicago Tribune is holding a battle for the best character on television, placing The Swede in a face-off with Walter Bishop from Fringe.
• In a lengthy feature, Cowboys and Indians magazine talks to co-creators Tony and Joe Gayton about producing Hell on Wheels — and having a soft spot for the McGinnes brothers.
• The Grio calls Elam Ferguson one of Common's "smartest career choices to date," pointing out the risk of starring in a TV show that references slavery.
• Christopher Heyerdahl talks to The Morton Report about juggling acting gigs like Hell on Wheels and the Twilight movies: "The past seven months of my life have been a wild ride."
• Broadcasting & Cable reports that Hell on Wheels scenes will appear in upcoming commercials for Ram trucks.
• Detroit News mentions Common in an article about the growing presence of hip-hop stars on television.
Read More