Uncategorized
Q&A – Duncan Ollerenshaw (Toole)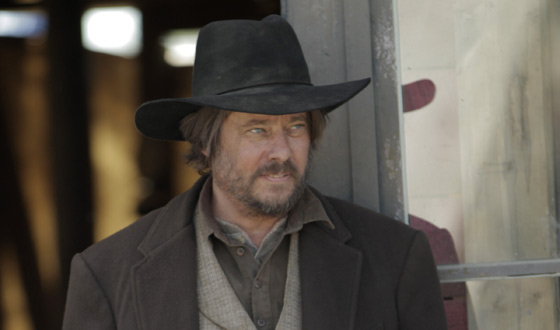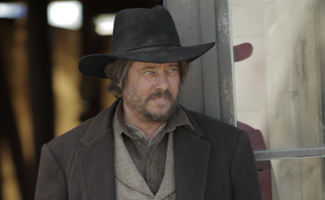 This week AMCtv.com talks to Duncan Ollerenshaw, who plays the rabble-rouser Toole on AMC's Hell on Wheels. Ollerenshaw reveals the disclaimer he gave Common before the series and describes getting stabbed in the face with a fork.
Q: Toole's a bit of an antagonist on the show…
A: Well he's definitely a man of his time — it's not like the bigotry stopped with the North's winning of the Civil War. I think for a character like Toole, the end of the war made his bigotry a little bit worse, if anything. Blacks had been considered slaves and they were considered less than the Irish, who were low on the totem pole as well, but with the end of the war, they almost became equals — which created a bit of anger in people like Mr. Toole.
Q: Have you had to defend Toole to your friends?
A: When I first met Common on set, I told him to please forgive me for anything I was about to say to him over the next few months! And I told a black friend of mine…something similar about forgiving me for anything he heard my character say on the show.
Q: What was your reaction when you were told that Common's character would shoot yours in the face?
A: It was a surprise for me. It brought that journey and struggle between the two men to a head, and it felt right to me. Certainly in a modern context, that kind of bigotry is very ugly to look at so I think it had to go in that direction. But I'm definitely a fan of Common as an actor because he brings a lot of emotion to the table.
VIDEO: The Guns of Hell on Wheels
Q: Tell me about the hanging scene in Episode 107, "Revelations." Was it difficult to shoot in a closed space?
A: It was a pretty high-tension day because of the nature of the scene — they were putting a noose around Elam's neck. During the stand-off between two crowds of men, it felt like anything could happen… The sets for the show were so great because there was such a "veritas" feel to the whole thing. There was a bit of a claustrophobic sense when shooting that scene, which I think added to the feeling being closed in.
Q: I hear a little lilt in your voice — how did you develop that Irish accent for the show?
A: Throughout my career I've done a lot of accent work and it's always been a part of my tool kit… I really enjoy using accent for a character, because there's almost a way of thinking that goes along with an accent once you nail it.
Q: Toole always has this great scowl. Is that another skill in your tool kit?
A: [Laughs] I don't know; I've never really played a guy like Toole before. I spent my career playing poets and intellectuals and then I grow a beard and long hair and I land Mr. Toole! It was a fun departure to play a character who sort of walks around with that scowl as part of his nature.
Q: In Episode 7, The Swede stabs Toole in the face with a fork. Did that take a lot of choreographing?
A: It's funny, I didn't really know what to expect, because one doesn't get stabbed in the face with a fork every day. In the theater there's a saying that the other actor does 50 percent of your work for you — and that's in an ideal world. When you work with Chris Heyerdahl, he's doing a lot of the work by putting you in the place you need to be at to respond.
Q: As a Calgary native, have you been showing people around?
A: I've done a little bit of fossil hunting in my days because the Badlands close to Calgary are full of dinosaur bones. Ben Esler is a quite a fan of dinosaurs, so the one thing that I did do is bring him a couple of dinosaur bones that I had once found to take back to Australia with him.
Q: Most people moonlight as an actor — are you saying you moonlight as a paleontologist?
A: [Laughs] My father is a geologist so he works with rocks and other paleontologists… I've told Ben that if Season 2 comes, I'd take him out on a fossil hunt.
Click here to read an interview with Common, who plays Elam Ferguson on Hell on Wheels.
Read More