Video
Six Full Western Movies Now Online With Stars The Duke, Brando, and (President) Reagan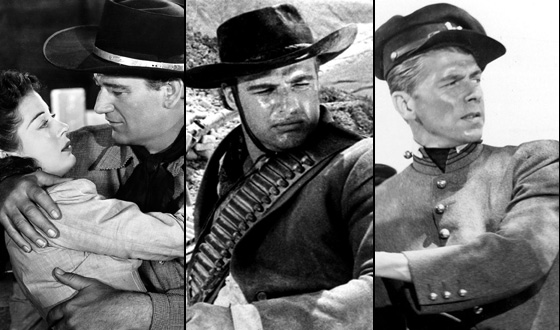 The next episode of AMC's new Western series Hell on Wheels airs this Sunday at 10/9c but you don't have to wait until the weekend to get a Wild West fix. For a limited time only, you can watch six classic Western movies online — including John Wayne's Angel and the Badman, Marlon Brando's One-Eyed Jacks, and Ronald Reagan's Santa Fe Trail (way before he became President).
Online Westerns
• Angel and the Badman: John Wayne plays a wounded outlaw who has to choose between the Quaker woman he loves and his criminal lifestyle.
• One-Eyed Jacks: After being betrayed during a bank robbery, Rio (Marlon Brando) hunts down his partner (Karl Malden) for revenge.
• Santa Fe Trail: A look a the life of Jeb Stuart (Errol Flynn) and his relationships with better-known icons George Custer (George Custer) and Kit Carson (Olivia de Havilland).
• The Bushwhackers: Horror legend Lon Chaney, Jr. has a role in this film about settlers being displaced by the incoming railroad.
• The Outlaw: This Howard Hughes pic about Billy the Kid (among others) made a household name of sex symbol Jane Russell by challenging censorship of the era.
• Tulsa: Susan Hayward and Robert Preston co-star in this Western pic that pits lovers of the land against the oil companies.
Read More