Press
NY Daily News Calls Hell on Wheels 'Another Winner'; THR Spotlights Anson Mount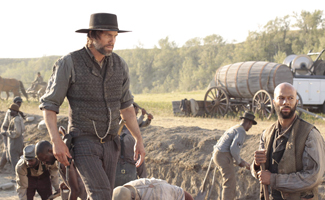 This week, critics praise the first episode of Hell on Wheels while stars Anson Mount (Cullen Bohannon) and Common (Elam Ferguson) promote the series on the interview circuit. Keep scrolling to see what the critics — and the cast — are saying about the show.
• New York Daily News says Hell on Wheels is "a high-octane drama." The show also received accolades from Chicago Sun-Times, TheWrap.com, San Antonio Express News, Orlando Sentinel, Miami Herald and The Calgary Herald.
• The Hollywood Reporter interviews Anson Mount about what attracted him to the role of Cullen Bohannon: "It's really rare that you come across a Southern character that's not stereotyped, vilified or aggrandized."
• The Dallas Morning News points out the novelty of casting rapper Common in a Western series. "Man, wait 'til the people from Chicago see me doing this," says Common.
• The Hollywood Reporter also interviews creators Tony and Joe Gayton about setting a show during the Reconstruction era and balancing fiction with history.
• Hell on Wheels was AMC's second-biggest series premiere, as reported by the New York Times, Variety, TheWrap.com, Deadline Hollywood, Multichannel News and EW.com.
• The Sunday Journal Sentinel and the Detroit News also speak to Common about his upbringing, his career and learning to ride a horse for Hell on Wheels.
• Anson Mount, Colm Meaney and Dominique McElligott discuss their characters with WorldScreen.com.
• The Hell on Wheels cast speak to the Minneapolis Star Tribune for a story that heralds the show as an atypical Western.
• The Calgary Herald visits the set of Hell on Wheels to speak with Anson Mount, Common and co-creator Tony Gayton.
• In a profile of Hell on Wheels, the Fort Worth Star-Telegram talks to Anson Mount about the show's gritty realism.
• TasteofCountry.com, WKRN.com and CountryWeekly.com spotlight country singer Jason Aldean, who performed a free concert in Nashville to promote Hell on Wheels.
• According to the Hollywood Reporter and C21Media.net, broadcasters in Australia, Asia and Africa will be airing Hell on Wheels. Variety reports that the show will also be airing in the U.K.
Read More