Uncategorized
Next Stop on the Hell on Wheels Sweepstakes – Jason Aldean Performs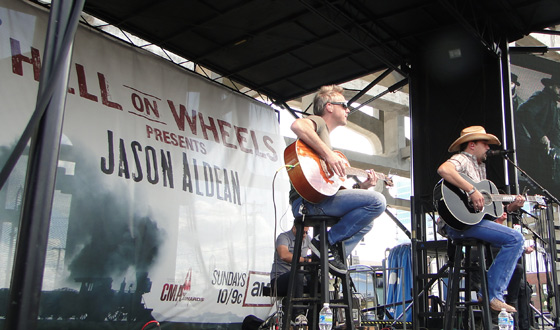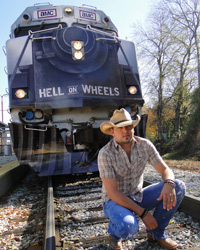 In the Hell on Wheels series premiere, the foreman says, "It's going to be a beautiful day on the railroad" and that's exactly what it was for sweepstakes winners on the AMC Train to the CMAs with country music star Jason Aldean.
This Nashville-bound vintage train — once owned by Jackie Gleason — was covered on both sides by Hell on Wheels art, while the front was made to look like a train from the series.
Needless to say, when Jason Aldean boarded, he was met with applause, hoots, hollers and cheers from an ecstatic group anxiously awaiting his performance at the River Front Station. There, the thousands of fans who had gathered went buck-wild when the train finally pulled in.
After an amazing performance by the up-and-coming country music singer Margaret Durante, Jason performed a stellar acoustic set including "Big Green Tractor," the hit that helped launch his career. After the show, Jason signed an endless amount of autographs and took pictures with his fans — some of whom played hooky from work or school just to see him. If the CMAs know anything, they'll be honoring him with at least one award at the 45th CMAs tonight. He's up for five awards — including Entertainer of the Year — and after his performance at the River Front Station, it's clear why. Hopefully the sweepstakes winners will witness Jason's first CMA win when they attend the awards this evening!
Read More