Real History of Hell on Wheels – The Freedmen's Experience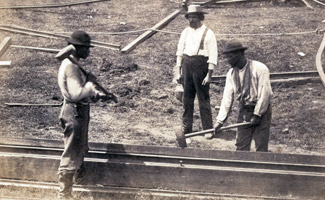 As early as 1863, hundreds of former slaves had already begun working on the railroad. Walking off their plantations after Lincoln's Emancipation Proclamation in January, displaced freedmen were recruited and hired by Grenville Dodge to aid the Union Pacific's construction of a transcontinental railroad.
After the Union's triumph in 1865, former slaves finally secured their freedom as well as legislated protection with the Freedmen's Bureau Bill. The bill helped freedmen adjust to their new lives, find their displaced families, and ultimately find gainful work. With so many former slaves already finding employ under the Union Pacific during the war, freedmen need look no further than the transcontinental railroad for antebellum wages.
And indeed, over 300 freedmen immediately departed their southern geography and sought out work in Omaha. Ultimately, this congregate of former slaves would become an invaluable piece of the railroad — working just as hard as the Irishmen for nearly half the three to four dollar per day wage.
Check back tomorrow to learn about another real-life inspiration behind Hell on Wheels, AMC's newest original series.
Hell on Wheels premieres Sun., Nov. 6 at 10/9c.
Read More