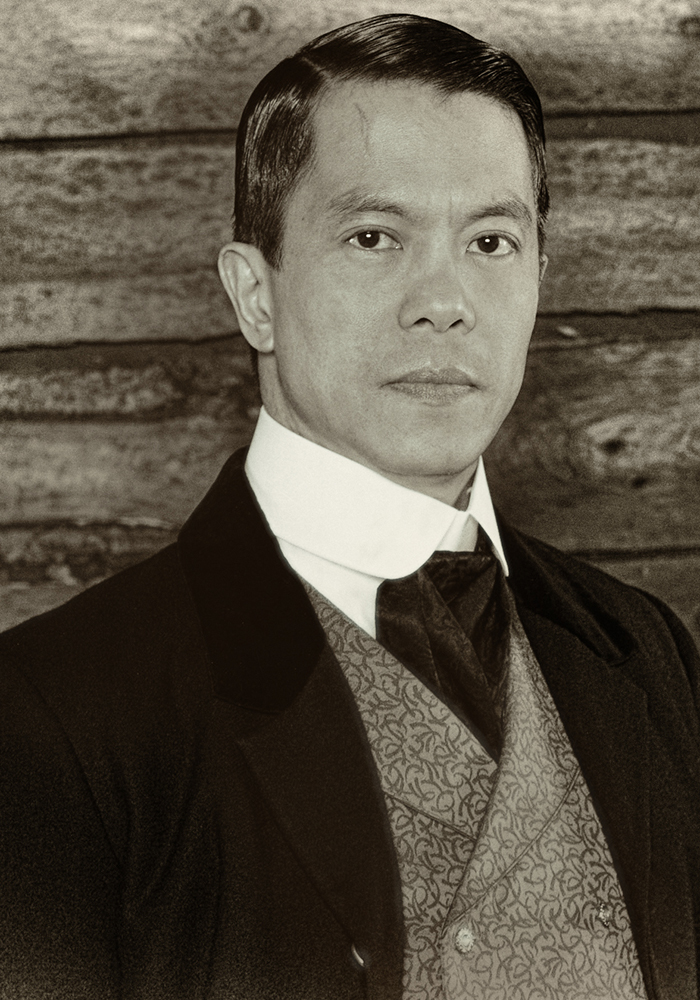 Chang's innate feeling of superiority and his contemptuousness for his American partners lead to an escalation in his squabbles with Cullen Bohannon. Their fight over what should be an easily negotiated matter, leads to a showdown that will change both men's paths to the finish line.

Byron Mann began his career starring with Jean-Claude Van Damme and the late Raul Julia in Universal's Streetfighter, followed by the cult actioner Crying Freeman, directed by Christophe Gans (Silent Hill). He furthered his career in the action genre by starring in Invincible, produced by Mel Gibson and Jet Li. The action in Invincible was directed by Hong Kong director Tony Ching Siu-Tung (Hero, House of Flying Daggers), and Mann again worked with Ching on Sony's Belly of the Beast.

Intertwined with the action genre are noted dramatic turns in MGM's Red Corner, starring opposite Richard Gere, and directed by Jon Avnet; New Line's The Corruptor, opposite Chow Yun-Fat and Mark Wahlberg, directed by James Foley; Sony's Sniper 3, opposite Tom Berenger; and James Cameron's cult television series Dark Angel, with Jessica Alba.

In 2005, Mann headlined the award-winning CBC/Star Movies drama, Dragon Boys, alongside Hong Kong's Eric Tsang (Infernal Affairs). Mann was nominated for Best Male Actor in the 2007 Gemini Awards for his role in Dragon Boys. Mann's works also include comedic turns in Shanghai Kiss with Kelly Hu (The Scorpion King), and in Blonde and Blonder, with Pam Anderson and Denise Richards.

In 2009, Mann starred as an ER physician in HBO Canada's Bloodletting & Miraculous Cures, based on the Giller Prize-winning book by Weinstein Books. In the same year, Mann completed the thriller Jasmine, shot on location in Hong Kong, and produced by Stratton Leopold (Mission: Impossible 3).

Mann kicked off 2011 with Universal's The Man With the Iron Fists, starring as the main villain opposite Russell Crowe and Lucy Liu. This period picture is directed by RZA, and produced by RZA, Eli Roth (Hostel), Marc Abraham (Air Force One) and Bill Kong (Crouching Tiger, Hidden Dragon). Later that year, Mann co-starred in the Hong Kong cop thriller, Cold War, playing an ex-cop who becomes involved in a hostage situation that rapidly spirals out of control. Cold War stars Tony Leung Ka Fai, Aaron Kwok and Andy Lau, and was also produced by Bill Kong.

In 2012, Mann joined CW's breakout hit series, Arrow, playing an enigmatic man who has a complex connection to the title character Oliver Queen/Arrow. In 2013, Mann re-joined producer Bill Kong again in the big screen remake of legendary Chinese hero Wong Fei Hong's Rise of the Legend, playing one of the film's arch villains. In 2014, Mann costarred in the Lionsgate feature Absolution with Steven Seagal and Vinnie Jones, playing a triad enforcer who brings down a mob kingpin in Russia.

In 2015, Mann joined Brad Pitt, Christian Bale, Ryan Gosling and Steve Carell in the 2016 Best Picture Oscar nominee, The Big Short, based on the No. 1 New York Times bestselling book about the U.S. subprime mortgage crisis in 2008. The feature is directed by Adam Mckay and released by Paramount Pictures. In the same year, Mann also joined the critically-acclaimed AMC series Hell On Wheels as a series regular, playing a powerful railroad contractor and the main antagonist in the series' fifth and final season.

Mann grew up in Hong Kong, and studied at the University of California in Los Angeles, graduating magna cum laude in Philosophy. He lives in Los Angeles, Vancouver, and Hong Kong.