Press
NY Times Recommends Season 4; Variety Deems Halt One of 2017's Best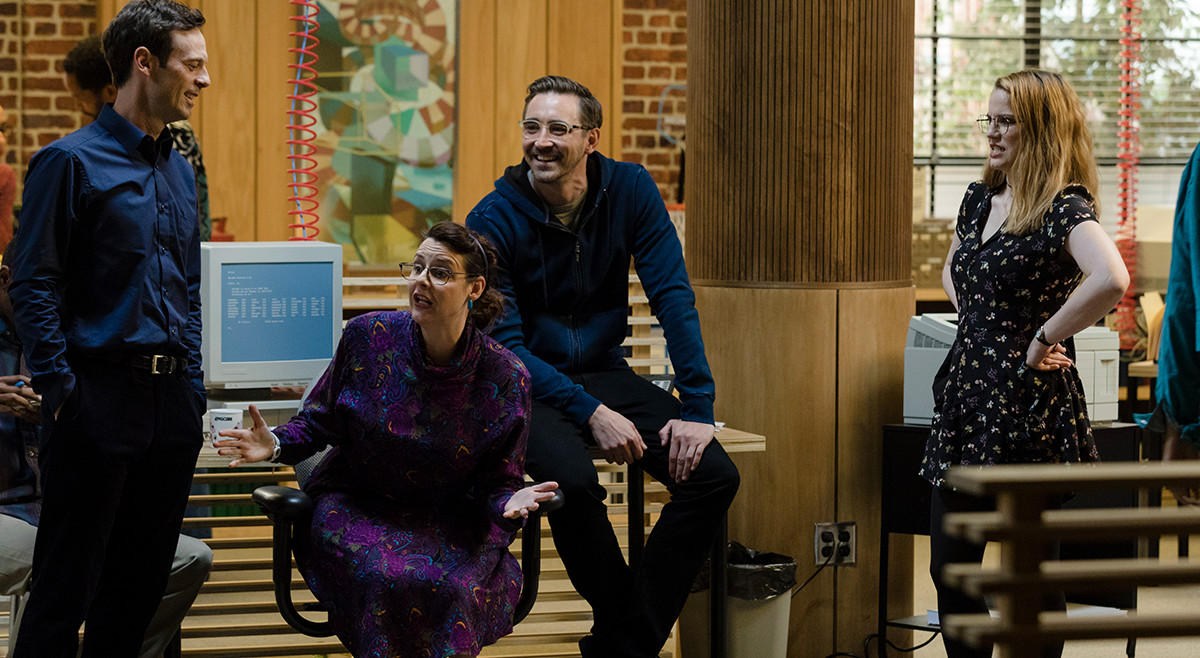 This week, The New York Times recommends watching Season 4, while Variety deems Halt and Catch Fire one of the year's best shows. Plus, Uproxx and The Atlantic also herald the drama's final season. Read on for more:
• The New York Times recommends watching Season 4 because the "final season of this terrific drama about the early days of the personal-computer industry is the show's most aesthetically sophisticated, and its most emotionally gutting."
• Variety names Halt and Catch Fire one of the year's best: "The almost unbearably beautiful Halt and Catch Fire closed out its run with a final season that struggled to articulate a legacy for all of its characters, while indelibly forming one of lasting resonance for the show."
• Halt and Catch Fire is ranked by Uproxx as one of this year's top TV shows, with a Season 4 that "stacks comfortably against the many shows to which this one was once so unfavorably compared, and the finale — particularly the eight words at the climax of it — is a wonder."
• The year's best TV shows included Halt and Catch Fire, according to The Atlantic, because Season 4 was "a compendium of '90s nostalgia and a tribute to the constancy of personal bonds during a time of dizzying change."
• Variety considers Gordon's death one of the most meaningful on TV this year, noting that "his absence forced the show to slow down momentarily — to allow its characters to grieve and ultimately to let the audience reflect on what they've meant to them."
• Uproxx celebrates a memorable scene surrounding Gordon's death from Season 4's "Who Needs a Guy," where "it's not until we see the light flickering over his shoulder — his life literally flashing before his eyes in the last moments before his neurological condition takes him — that the devastating truth of it becomes so painfully clear."
• One of TVLine's best quotes this year includes Joe closing out the series the same way he began it, by saying, "Let me start by asking a question…"
• Decider exults, "Rejoice, AMC fans! Halt and Catch Fire Season 4 is now streaming on Netflix."
• The Ringer lauds Season 4's "Nowhere Man" as one of 2017's best TV episodes because a line from Joe "illustrates more about what drives these seemingly perpetually unsatisfied people — and, just as crucially, about why we care — than any plot development could."
• Collider.com selects the use of Dire Straits' "So Far Away" in Season 4's "Goodwill" as one of the best songs from TV this year: "Halt and Catch Fire also delivered a stunning final season, so much so that it is hard to hear this particular song from Dire Straits without getting misty-eyed."
• The Omaha World-Herald observes that Halt and Catch Fire "starts as a nostalgia piece but gradually morphs into a sharp-witted office comedy and piercing character study."
• Gizmodo extols the show, noting that "what's really extraordinary, and what had me start a rewatch almost as soon as the perfect finale was over (the fourth season is easily one of the best seasons of a television show ever produced) is the epic, if platonic, romance at the center of Halt and Catch Fire [between Donna and Cameron]."
To stay up-to-date with all the latest Halt and Catch Fire news, sign up for the Halt and Catch Fire Members Only Club.
Read More