Blog
Halt and Catch Fire Q&A — Susanna Skaggs (Haley Clark)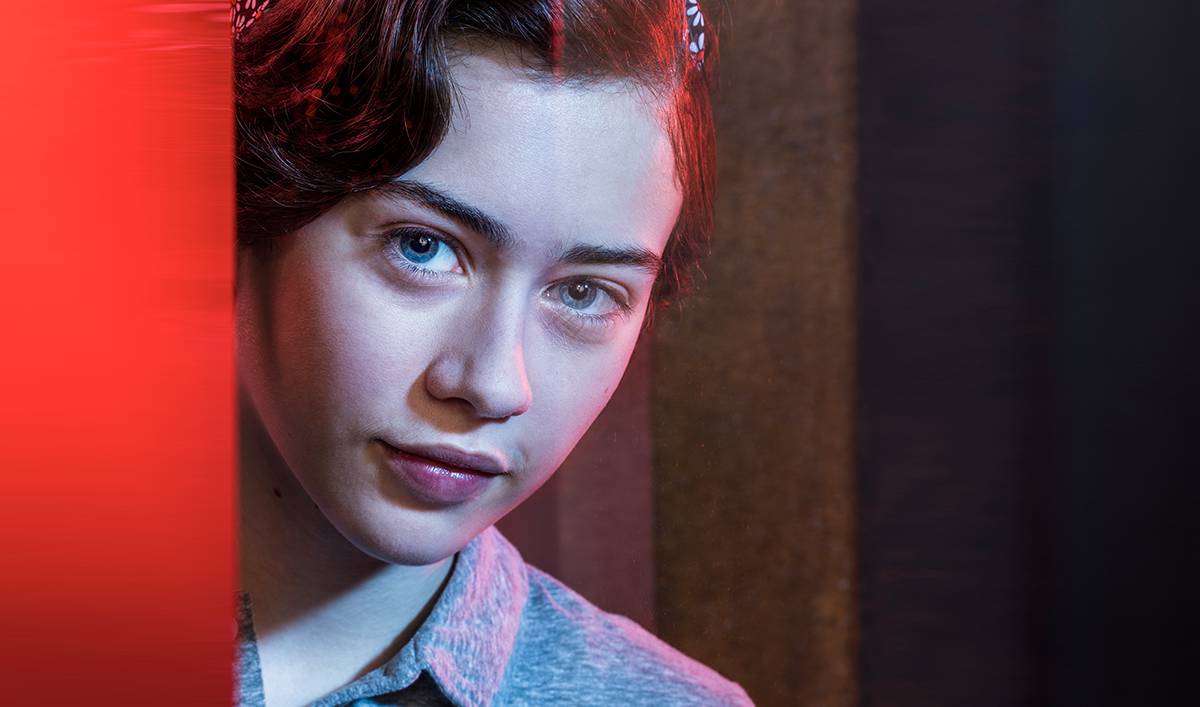 Susanna Skaggs, who plays Haley Clark on AMC's Halt and Catch Fire, discusses how Haley grieves the loss of her father, why she's the only one who can get through to Joanie, and why she reacts so negatively to the Comet commercial.
Q: What was it like joining an already established cast this season? Any difficulties or challenges?
A: It was perfect for me because it was my first job on film. I'd only ever been in plays before this, so it was really good to be with a cast and crew who knew what they were doing. I didn't have to worry about where to go or what to do because everyone else around me knew. For me, it was an awesome situation. I got support from other people to transition into this completely different world.
Q: What did you like about Haley?
A: I really love Haley. She's a lot like me. I relate to being awkward in school and just not connecting to people my age, especially when I was younger. It's better now, but I definitely relate to having older friends and being able to connect with them better. She's smart and funny and I just love her.
Q: What was the feeling like on set knowing that this was the final season?
A: For me, I was trying to hold onto every moment because it was my first show. That was already a thing for me. I was trying to cherish my first job with having it be an amazing experience on this great show with great people. I was definitely holding on, but for different reasons.
Q: Had Haley ever thought about this line of work before coming up with the idea for Comet? Was she prepared for this little project to become such a big thing?
A: I think she was surprised that they were recognizing that she's good at it. It's just a thing she does. She just does it and she's good at it. It's natural to her. I think she was pretty surprised that they were about to buy it from her and make it into a real thing and a company. … In Episode 4, she's so much of her own person now because she has a supportive group of people with her. I think it was really good for her to have this group.
Q: In Episode 8, we see how everyone is coping after Gordon's sudden death. How did you approach portraying Haley's grief?
A: It was weird for me because I haven't experienced grief like that before. It's a huge fear of mine to lose a parent, so it was hard to think about and it was so heavy. It was hard not to tear up about it because I could never imagine that. I think it was the same thing for Haley before Gordon's death. She had never had something like that, so she doesn't know how to deal with it. She goes back inward and it changes her. She's less open and she's quieter and she doesn't want to talk to people about it. She wants to be by herself a lot.
Q: Do you think Haley is upset that she and Joe couldn't get her dad's sweater back?
A: It's not the sweater. It's her dad. She wants her dad back, but she can never have him back. Having something like that where you can smell him and feel how his clothes felt – I think that was important for her to have so she can remember what her dad was like. I think it's really sad she couldn't get it back. … I don't think she blames Joe at all. There's too much going on to do that. I think it helps her to break the tension a little bit and stop being sad all the time. It really helps her get through the day. It's definitely not something that helps her get over it. How do you get over something like that? But it helps her feel OK for that moment at least.
Q: Haley is the only person who can really get through to Joanie after her blowup with Donna. What does that say about their bond as sisters?
A: We've seen how they bond and how they love each other by picking on each other. It's different with siblings. With my brothers, we pick on each other all the time and we're really mean to each other [Laughs] but we know we love each other. I think the reason why she got through to Joanie is because they both lost their dad and they both know they need to just sit and hold each other for a moment and to just be together.
Q: Why do you think Haley reacts so negatively to the Comet commercial in Episode 9?
A: I think it's primarily because of Gordon and grief. It's like, "That's not OK. You can't make money off of my dead dad! That's not something that should happen." Also, she didn't like her face being used because she's not a part of that company anymore. Even though she loved it and it helped her feel more confident, she doesn't want to be a part of it in the future. I think she was upset that Joe took a thing she made and was proud of and loved and he made it so that he could make money. I don't think Joe meant to do something like that – to take this girl's idea and turn it into something that will benefit him – but that's how she's feeling.
Q: Why do you think Haley finally decides to ask out Vanessa when she does? How does that rejection impact Haley?
A: I think it was mostly because of Joanie leaving and how Joanie is so daring and does whatever she wants. She just puts herself out there. Haley is inspired by that. She misses her and she thinks, "If I want to be like Joanie, this is something I can do to be like her. Joanie would totally ask someone out just because she wants to. Maybe that will help me." I think [the rejection] hits her pretty bad. It puts her back into herself and makes her feel like crap again, like leaving Comet did and like Gordon dying did. It's another thing on the list of crap that's been happening. It just blows up her confidence. It's just gone. She really thought it would work out because they've been hanging out, but she didn't read the situation as well as she thought. It's so embarrassing for her.
Q: Haley changed so much over the course of the season. Were there phases in her development that were more challenging to play than others?
A: The hair thing was really scary for me! I'd never had a pixie cut before, but I'm glad I did it. Emotionally, I've never experienced grief like she has so that was something I was worried about. One of the writers told me Gordon was going to die, but I thought he was lying to me. I made him pull up the outline and I thought, "No! This isn't right." I loved working with Scoot [McNairy] and it was such a blast to be in scenes with him. That was sad to not have anymore. Also, I was just grieving for Haley.
Q: Are you happy with how Haley ends up?
A: When I first read Episode 10, I was upset because of the boyfriend situation, but I read it again and I was like, "OK, I guess this is fine." I thought she was overcompensating or convincing herself she was definitely not gay. I think it's realistic that she would try to hide that part of her, but she does dump him, and I had skipped over that in my first reading of the script. I was so relieved. At the end, when she's listening to her dad, I think it shows how she's going to be OK and she's going to accept herself. That was really important to me.
Q: What's your favorite memory from your time on set?
A: Pieing Scoot was my favorite thing I got to do all season. That was an amazing day and it was my first day with all the Comet people. My older brother was there too, so he got to meet everyone. It was so fun!
Q: Did you ever get tired of eating Necco wafers?
A: I hate Necco wafers! They're disgusting. I watched the episode, and you don't see me eating any, but I ate so many! [Laughs]
Read a Q&A with Scoot McNairy, who plays Gordon Clark.
To stay up-to-date with all the latest Halt and Catch Fire news, sign up for the Members Only Club.
Read More